Yesterday, with the release of their 11th annual sustainability report, the most fashion-forward detail included a full list of suppliers. H&M stands as the first fast-fashion company to ever reveal such a list. Usually, such information is held in close wraps, but as H&M tries to embrace transparency, they've let it all hang out, publishing a full list.
After much scrutiny regarding unlivable wages paid to their garment workers, and the terrible incidents of Bangladesh factory fires, H&M is using their big influence for the better.
As the number one buyer of organic cotton in the world, their recent ban on PFCs, and the release of their spring 2013 Conscious Collection, they are moving things forward, hopefully, the best way they can.
"We are transparent about the progress we make and the report is an important part of that. Our customers should feel confident that everything they buy from H&M is designed, manufactured and handled with responsibility for people and the environment", says Karl-Johan Persson, CEO at H&M.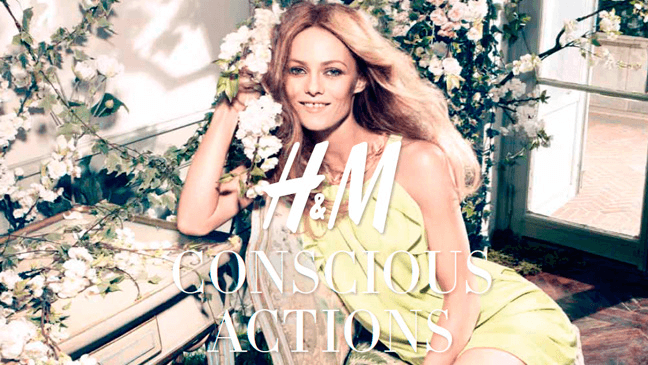 "Being one of the biggest fashion companies puts high demand on our sustainability work and we take this responsibility seriously. There are a number of things that stand out such as being the biggest user of organic cotton in the world, being the first fashion retailer to launch a garment collecting initiative globally and promoting transparency by disclosing our supplier factory list", says Helena Helmersson, Head of Sustainability at H&M.
Publishing a list of suppliers isn't the only progressive action of the past year. Check out the key facts and figures from their year below.
Key figures from our Conscious Actions Sustainability Report 2012
11.4% of the cotton came from more sustainable sources (7.8% certified organic cotton, 3.6% Better Cotton)
Around 150.000 cotton farmers were trained on better farming techniques through the Better Cotton Initiative.
The use of recycled polyester was equivalent to 7.9 million plastic bottles.
450 million litres of water were saved in the production of denim and other water- intense products by applying water-saving production techniques.
74% of our managers and 50% of the board members are women.
We reduced electricity use in our stores by 15% per square meter compared to 2007, targeting 20% reductions by 2020.
570,821 garment workers in Bangladesh received training on their rights since 2008, using short films.
More than 100,000 workers and middle managers in H&M supplier factories received additional training on fire safety.
The compliance with the H&M Code of Conduct amongst the supplier factories continued to improve, with sustainability performance scores (ICoC) increasing from 79.3% (Dec. 2011) to 81.7% (November 2012).
H&M invested about SEK 42 million (approx. USD 6.3 million / EUR 5 million) into communities in India and Bangladesh and the H&M Conscious Foundation.