We loved H&M right? From their ban on PFCs to the release of their Garden Collection in 2010 (made of all organic fibers like lyocell), we saw them, as they claim to be, "frontrunners in the industry." In some ways they might be, but a recent investigation into mass faintings at a manufacturing plant in Cambodia–one of H&M's most important supplier countries–has put H&M under fire, and is leading us to question the companies squeaky clean Corporate Social Responsibility.
Yes, H&M's efforts have been 'ahead of the industry' but is that comparison good enough?
Swedish television, TV4's Kalla Fakta (Cold Facts), reported on the issue last week in a shocking two sided report revealing what H&M are saying, and doing, are two different things.
"As most other fashion brands, we don't own the factories," Helena Helmersson, the company's head of sustainability, says. "Instead we buy garments from suppliers. Hence, we don't pay the wages to the factory workers." Such a distant approach to their direct buyers is a dangerous one.
The companies annual report from 2011 states, "H&M uses its size and influence to exert a positive effect on social development in these countries, thereby helping to achieve better conditions for many people." But when the worker's wages in Cambodia make up 1.5% of the price we pay for a garment in the store, could H&M be doing better?
A daily wage at the factory is usually 40 cents per day, or slightly more if a worker sews arms for a shirt or pant legs. The countries minimum wage is $61 per month—only 25% of a living wage, according to The Clean Clothes Campaign. Garment workers, consist mostly of women 18-22 years of age, often work long days because managers say "they are in a hurry." In 2011 alone, more than 2,400 workers in 25 separate incidences were admitted to hospital after fainting from hunger or exhaustion. Unions say many more go unrecorded, for fear of losing their job.
H&M announced factory workers were fainting "from personal and work related stress." But the local hospital, where the employees are sent after fainting, confirmed that cases were a result of low blood sugar concentrations. Workers are not getting paid a wage they can live off of, and as a result, are suffering from malnutrition.
In reaction to the Cold Facts report, H&M announced plans on Tuesday for a project to strengthen the management dialogue at some production units in Cambodia. Although they have yet to speak directly to the Cambodian government thus far, Karl-Johan Persson, chief executive officer of H&M, says they are "actively working on the issue."
In light of the situation, this September, hundreds of activists staged "faint-ins" where they "swooned over fashion" by fainting in H&M and Gap stores around the world.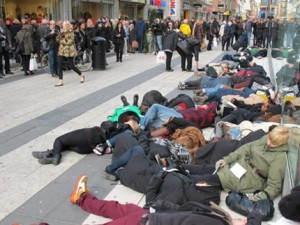 Faint-in outside of H&M in Stockholm, Sweden
"Low wages come at a high cost. Last year, over 2400 workers passed out in Cambodian factories due to malnutrition as a direct consequence of low salaries. But H&M, one of Cambodia's main buyers, continues to refuse to pay a living wage to its workers," says Jeroen Merk of the International Clean Clothes Campaign. "This is unacceptable."