Vaute Couture's FW2013 NYFW show shook the mink off Della Russo's pointy shoulders, causing big heads to turn in the spotlight that even vegan fashion is fashion first–and damn good.
It is often we hear stories about making clothes locally, or creating imbecile seasonless designs. Even vegan, cruelty-free fashion. But all three–done well–is certainly a rarity.
The force behind high fashion, high ethics and high function is the beautiful Leanne Mai-ly Hilgart, founder of Vaute, who in 2008, set out to change the fashion industry. Since then she's made a big mark through her playful silhouettes, animal-loving statements, and amazingly warm coats all which are completely cruelty-free. This is no small feat, so we wanted to get inside the mind and behind the seams of this game changer.
Juliette Donatelli: Coco Chanel found fashion in the skies; streets; the way we live. Where do you find your inspiration for Vaute?
Leanne Mai-ly Hilgart: I'm inspired by ballet class silhouettes, 80's sitcoms, Audrey Hepburn, and boys clothes. I love vintage from the 50's and 80's, and anything from Japan. People watching on the subway makes me wonder how to create a more effortless playful wardrobe for people who do everything and care about everything.
JD: What was the biggest hurdle you had to jump as a newbie?
LMH: Ah. There are so many. Funding is probably the biggest. Fear is the constant. And just doing it, beginning before you're ready, is the answer, always.
JD: What is more important the product or the process?
LMH: The product IS the process. It's about how something is made, of what, and by who. These aren't separate things.
JD: Which entrepreneurs inspire you?
LMH: Anita Roddick, Mark Constantine, Chip Conley
JD: What was the first article of clothing you designed?
LMH: When I was 12, I sold the title of my Social Studies Fair paper on animal rights, "Being Cruel Isn't Cool" to a slogan tee shirt company, who created tees, bumper stickers, and buttons with it. Does that count? Probably not. I was in a big slogan tee phase in my pre-teens, I also went crazy for creating jewelry in my EZ bake oven and redesigning my trapper keeper with AR slogans. I did love sketching clothes when I was kid, but I didn't study fashion. I studied education and philosophy, so my first real design was the Bomono for Vaute's first collection.
JD: What is currently on your mood board?
LMH: the Northern Lights. Sailor Moon. Tennis outfits. Origami. Bollywood.
These words: "And above all, watch with glittering eyes the whole world around you because the greatest secrets are always hidden in the most unlikely places. Those who don't believe in magic will never find it." – Roald Dahl
JD: Describe your aesthetic in three words.
LMH: Whimsical 50's Tomboy
JD: What does fashion mean to you?
LMH: Gore Vidal said it best: "Style is knowing who you are, what you want to say, and not giving a damn"
JD: What would you tell the 20 year old version of yourself?
LMH: I know in a couple years you're going to feel really lost. But it's all okay- just choose love always, everything you're given and experience is a tool for what you'll do. Trust life, and it'll give you more than you could expect.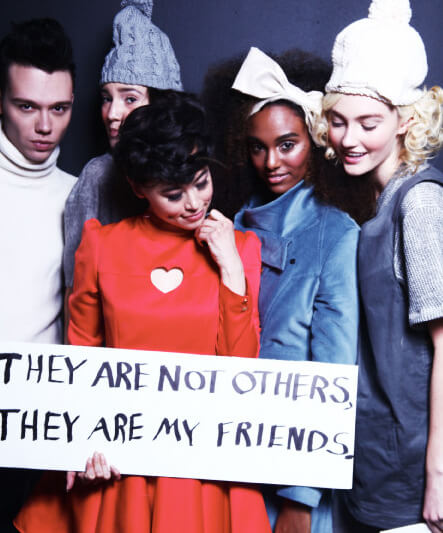 JD: Who would you dream of collaborating with live or dead?
LMH: Mark Constantine (founder of Lush) or the guys from Method
JD: Who do you look up to right now?
LMH: Sophia Amoruso, founder of Nasty Gal
JD: What's your personal mantra?
LMH: Look for why you're lucky.
Vaute with your dollars.
Visit Vaute Couture's Flagship store on 234 Grand Street (& Driggs) in Brooklyn, NY or shop
online
images from the brand