The sixth Ethical Fashion Show Berlin, along side its sister show, the Greenshowroom, opens amidst Berlin Fashion Week once again to showcase some of the best ethical fashion from around the world.
If you do it right it will last forever, rings through the lush halls and ethically-made organic tote bags of the Ethical Fashion Show Berlin. It's sixth time in production, Berlin is centralizing itself as a meeting place for eco-fashion, bringing together over 122 designers for the Greenshowroom and Ethical Fashion Show Berlin on July 8 – 10th. The dominate themes emerging from the designers are denim, footwear and upcycling.
There are two factors that have become a well established feature at the Ethical Fashion Show Berlin for any of the exhibiting designers: environmental care and ethical responsibility.
Interest in the perception of responsibility within the global supply chains has reached the very centre of society. The current discussion on quality shows the highly topical character of this issue in the textile industry. Our exhibitors have proved that forward-looking solutions have already reached a good level of cost effectiveness and that they can be implemented even without regulations and acts of law. – Olaf Schmidt, Messe Frankfurt
We have the pleasure of speaking with Vice President Textiles & Textiles Technologies at Messe Frankfurt, Olaf Schmidt, on the upcoming event.
Juliette Donatelli: How has the Ethical Fashion Show Berlin grown since it started?
Olaf Schmidt: The Ethical Fashion Show Berlin is being held for the sixth time this year. Organised by Messe Frankfurt, this trade show for eco-fair streetwear and casualwear has grown continuously over the years and now numbers 90 labels. Together with the Greenshowroom, a trade fair focusing on sustainable fashion, which we also organise, the Ethical Fashion Show Berlin is Europe's biggest platform for ecologically and fairly produced fashions during the Berlin Fashion Week. With a comprehensive programme of events, the two shows have developed into one of the most important venues for eco-fair fashion in Europe.
JD: What in particular are you excited about this season?
OS: This season, we have a very extensive complementary programme of events, which offers insights into the latest developments and trends in the sector. Particular emphasis will be given to the subject of textile labels. Lectures, seminars and the Create Green Breakfast will give trade visitors numerous opportunities to discuss subjects relevant to the sector. Additionally, we are delighted to welcome several new, international exhibitors.
JD: What are your criteria for brands who would like to be involved? What benchmarks of sustainability must they adhere to?
OS: We have not laid down our own criteria for either the Greenshowroom or the Ethical Fashion Show Berlin. Instead, we have compiled a catalogue of criteria in cooperation with Get Changed! This catalogue draws on existing criteria and includes all relevant and ambitious certificates, such as GOTS and Fairtrade, and functions in terms of the materials used. All exhibitors are checked individually and carefully – in many cases personally – which makes our procedure highly credible.
JD: Who are some new brands this season? What are some brands that have been exhibiting with you for a while?
OS: We welcome new exhibitors every year. This season, they include, for example, the successful People Tree label, Lionel Morin from Paris, the winner of the LVMH Fashion Award, and Farah Floyd from Berlin. And then there are numerous labels, such as Studio Jux, Elementum, Studio Elsien Gringhuis and deepmello, which have been taking part for several years.
JD: How have you seen the sustainable fashion space evolve since the birth of the Ethical Fashion Show Berlin?
OS: It is fascinating to see how many new labels come onto the market with innovative ideas from season to season. Sustainable fashion is evolving continuously. While the emphasis on the past was towards natural fibres, the sustainable-fashion scene is being enriched today by subjects such as recycling and upcycling, vegan fashion, sustainable dyes and finishes and a variety of social aspects – quite apart, of course, from communication and design.
JD: What small piece of advice would give to shoppers/buyers to be more sustainable?
OS: We advise buyers to look out for established textile labels, such as GOTS, IVN best, Fairtrade and bluedesign. Also important are personal contacts, especially to small brands, and individual intuition. In the field of sustainable fashion, it is important not just to order but also to get to know the history of a product and the people behind it. And we offer the right venue to do exactly this.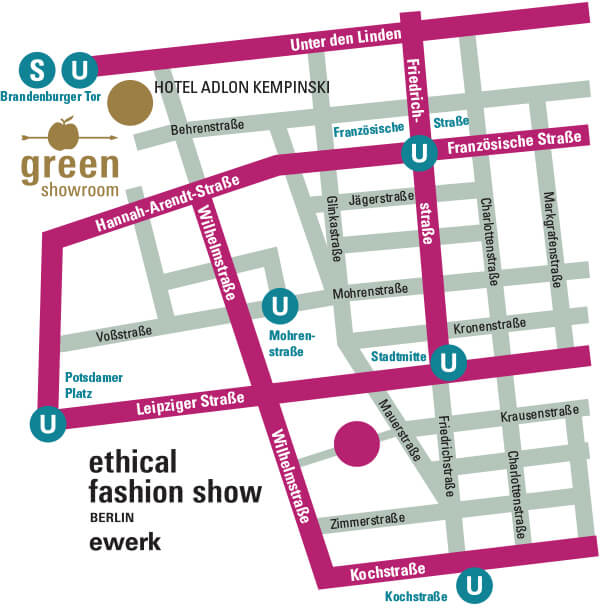 Related on spades + siLK
Sustainability Rocks Berlin Fashion Week
Berlin: High End Fashion Proves Sustainability is Within Reach