Wednesday, the GREENshowroom, a selection of premium luxury brands–distinguished by smart, sustainable qualities–held its seventh season show in the Hotel Adlon Kempinski Berlin, with twenty-seven high fashion exhibitors presenting their sustainable Autumn/Winter 2013/14 collections.
Invited guests crowded into a series of large rooms connected by a catwalk for the Salonshow, perhaps the highlight of the event. With 21 participating labels showcasing 67 sophisticated eco fashion looks live on the catwalk, from elegant knitwear, easy-going blazers and coats to luxury accessories and cool men's wear, the Salonshow room turned the runway green.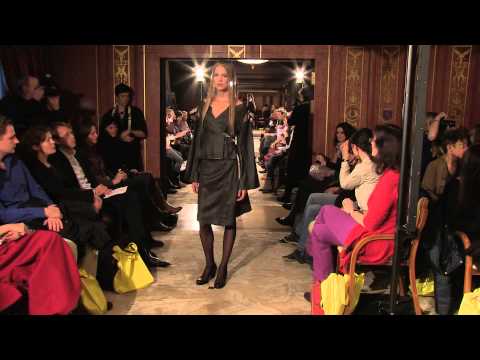 "It is time to rethink certain patterns and cycles in the fashion branch. With the realization of GREENshowroom, we have made a start." said Magdalena Schaffrin and Jana Keller, founders of GREENshowroom. "For us luxury means true values–brands and products with a story to tell, working in harmony with the environment and yet with the main emphasis on design."
The salon rooms of the 5-star hotel offered the perfect stage for such well-known and prestigious brands like RoyalBLUSH or Atelier Laure Paschoud as well as newcomers like Aleks Kurkowski, Coccoon or Katlen Thiel. For three days, designers set up their FW2013/2014 collections throughout a corridor of suites, elegantly displaying collections in closets, laid out on the king-sized beds and beautiful desks.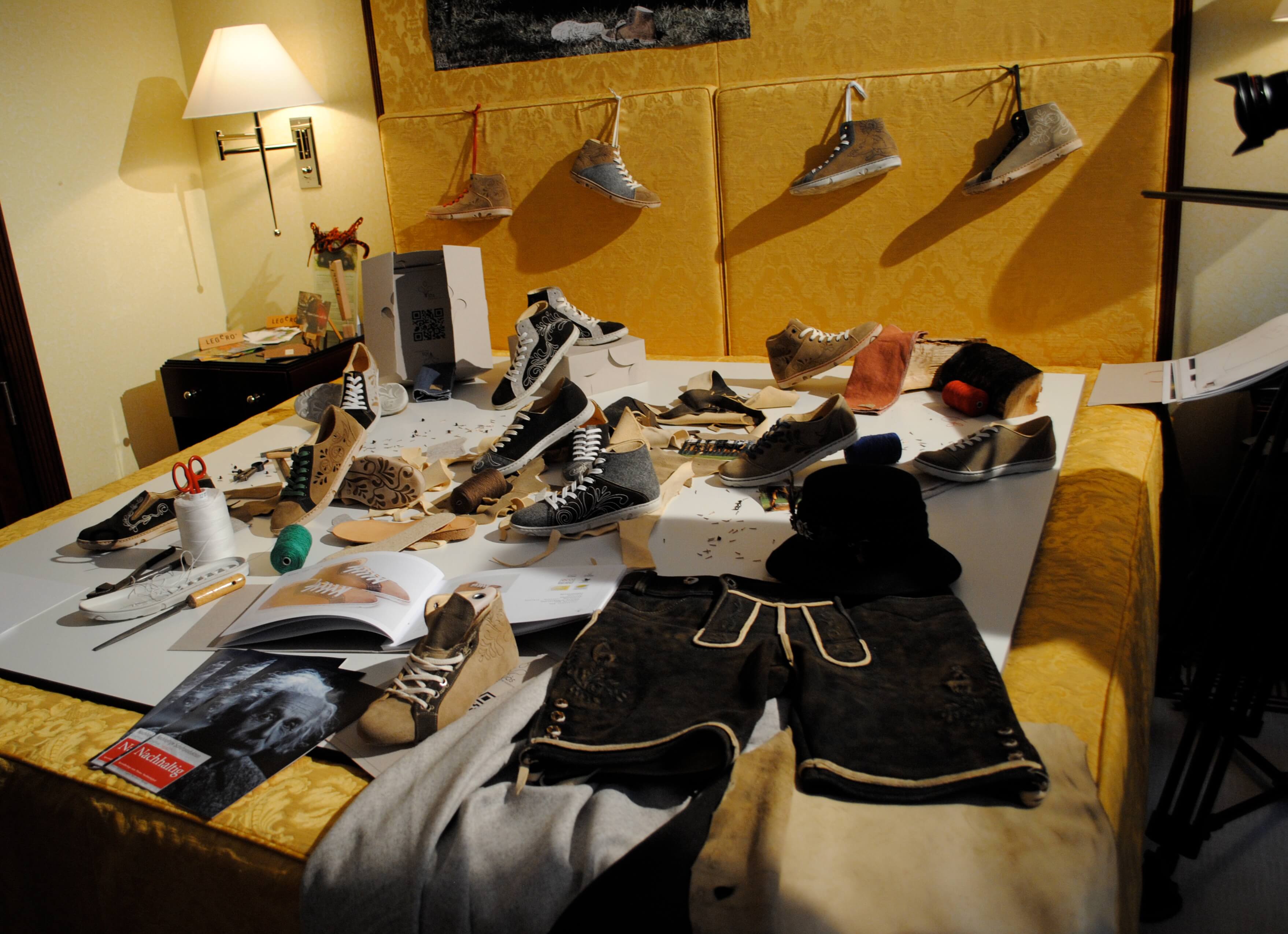 "GREENshowroom is a great platform for eco-designers because we bring it all together. It is great for the designers and great for buyers as well because they can see it all in one place."
The GREENshowroom also launched the premier of their sister event, the Ethical Fashion Show, a gathering of 70 sustainable streetwear and casualwear labels presenting their autumn/winter 2013/14 collections in two exhibition halls. "Our sister event this year is a great balance between the two: high fashion and casual, streetwear." Jana Keller, founder of the GREENshowroom, told us.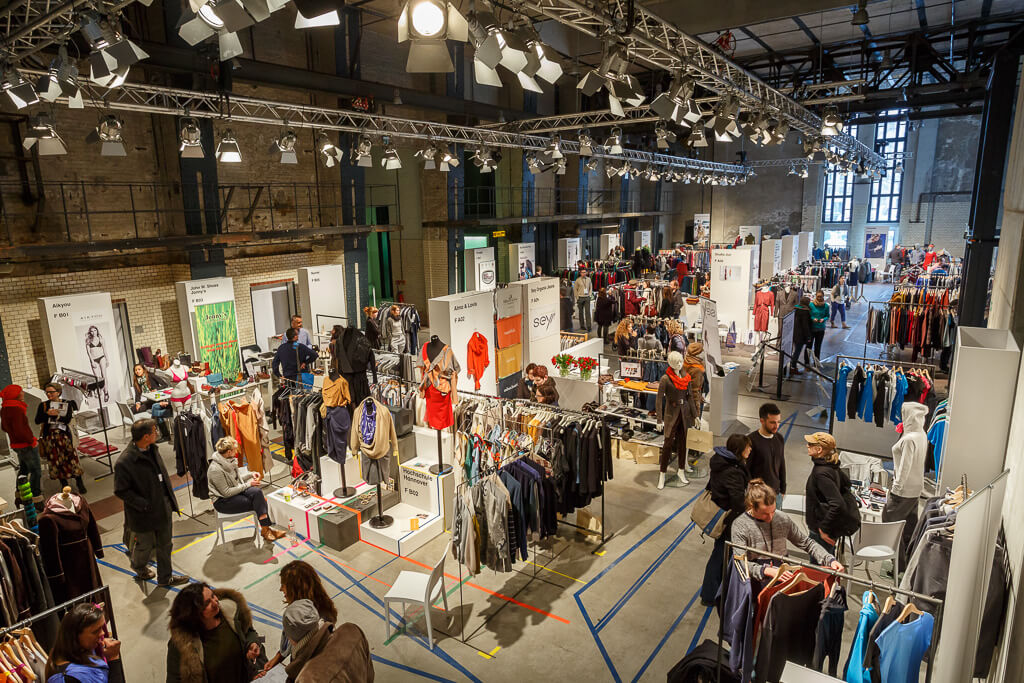 Obtaining a space as an exhibitor at the GREENshowroom and the Ethical Fashion Show means 60% of the collection must be produced in a sustainable manner. Criteria such as the use of certified organic materials, lifecycle analysis, such as Cradle to Cradle or GOTS, Fairtrade production, or direct support of social program projects and traditional skills are taken into consideration.
Sustainability may be the foundation but the smart, timeless chic designs are what stands out. Designers haven't compromised their designs to be sustainable and there was no shortage of talent and style from these courageous, conscious designers. Each collection is thoughtfully accompanied by a layer of stories–from the inspiration for the collection to materials used to how they were made.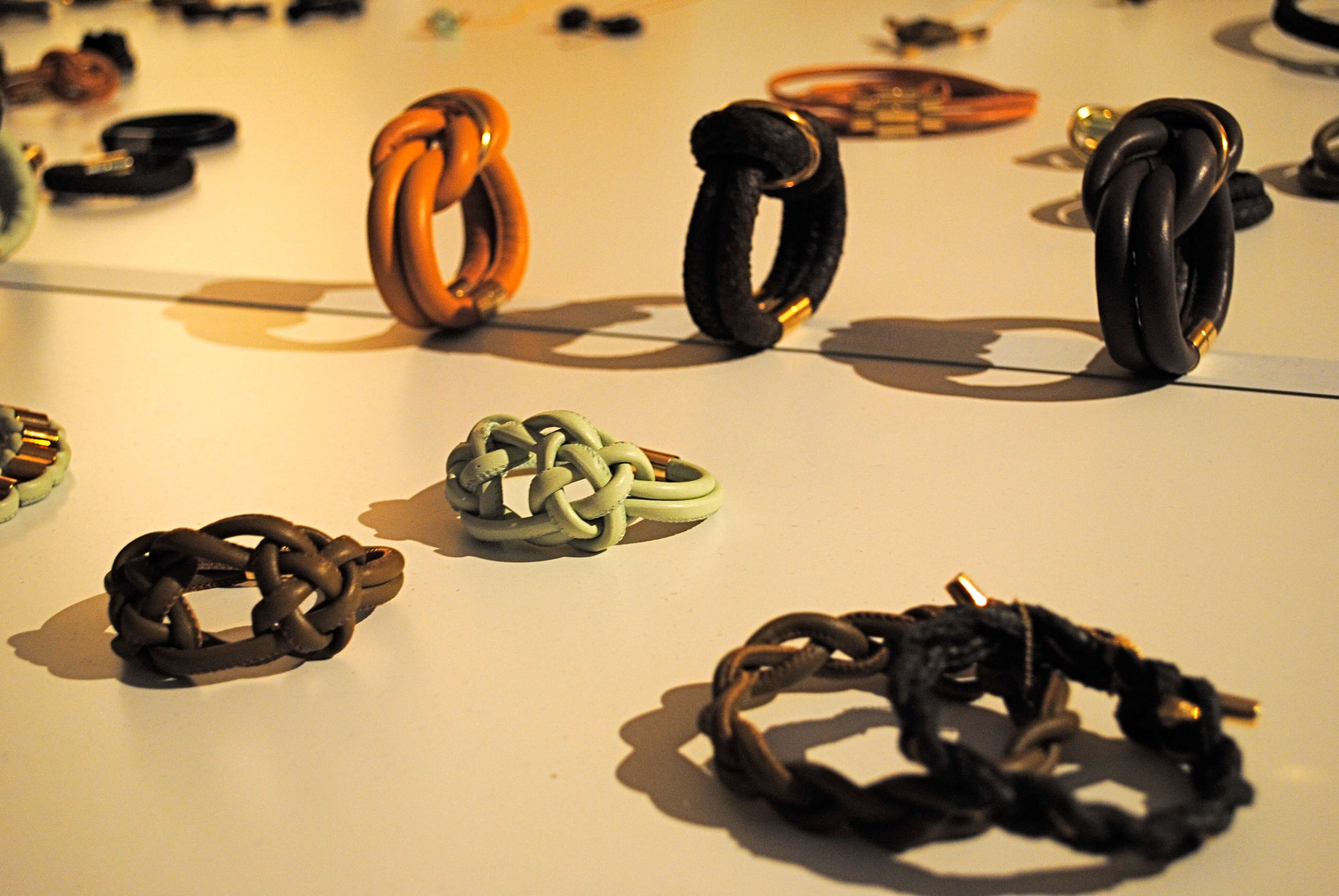 Jana, founder of the GREENshowroom, has been in the fashion industry sixteen years, holding a range of positions from buyer to stylist, and she says her design aesthetic has always held "a conscious." Her label RoyalBLUSH (pictured above), a line of leather accessories such as clutches and bracelets, uses vegetable tanning techniques, rather than the conventional chrome technique. The use of bark and root bases, as done in vegetable tanning, never uses any chemicals, keeps alive knowledge and does not outsource production elsewhere.
"Leaving chemicals out of products is a small change that can make a big difference," says Jana. "For example viscose, many people think it is natural but it goes through a big chemical process. Or recycled polyesters, made from recycled bottles isn't sustainable because bottles still have to be made, so it is an endless cycle. Once it is yarn, it cannot be reused, the lifecycle ends. These are not a mistake, but a thinking mistake." She adds, "General changes in thinking can have big impacts. We can't do it all but there is a balance. Every step is a chance to do it a little better. And that's what counts, everyday life changes."
The sustainable showcases were surrounded by the Mercedes Benz Fashion week, put on twice a year since 2007; Bread & Butter, a fashion trade show for urban and streetwear, was one of the first to bring the fashion boom to Berlin; PREMIUM, the second largest fashion trade fair in Berlin, highlighting the latest trends in men and women's fashion, footwear, accessories and luxury items.
Being a sustainable label is going against grain and takes a lot of research, hard-work and courage. Jana's advice to new designers?: "Take your time to develop your collection. Skip a season if you have to. Do your research because once you've shown, you have to keep up with the rhythm. Your style is set. Sustainability is all about taking your time, so take your time for the foundation of your label. It's not easy but in the end it is worth it."
In the future we hope to see the GREENshowroom events at all Fashion Weeks around the world, but for now, just like sustainability, they will take their time to grow the event thoughtfully, and with a conscious.