Cotton: the fabric of our lives. It's undeniably the most important fiber used in the textile industry worldwide. We tote cotton sheets, cotton underwear and even cotton shoes as being natural — an alternative to synthetic petroleum based products. Yet the truth trail is not so fluffy. Over the last sixty years, something has changed about this fruit of the loom — a shift that is directly connected to suffering community health, polluted rainwater and even climate change.
The good news? It doesn't have to be this way.
The Facts.
We now consume more cotton today than ever before.
Cotton production has almost doubled in the last 30 years–with demand now exceeding 25 million tons annually.
Cotton accounts for 40% of global textile production.
For all the cotton grown, 60% goes to the fashion industry.
$2 billion's worth of chemicals are sprayed on cotton crops each year
Almost half of those chemicals are toxic enough that they are categorized as hazardous by the World Health Organization.
Between 25 million and 77 million agricultural workers worldwide suffer from acute pesticide poisoning with at least 1 million requiring hospitalization each year.
In India a study conducted over a single 5 month observation period found 97 cotton farmers experienced 323 separate incidents of ill health.
A 2004 study conducted out of the Technical University of Lódz, in Poland, showed hazardous pesticides applied during cotton production are detected in cotton clothing.
In Brazil, the world's 4th largest consumer of agrochemicals, researchers analyzed rain water collected from the Pantanal basin and found traces of 19 different pesticides – 12 of which were applied to cotton.
Up to 99% of the world's cotton farmers live and work in developing world countries; with almost two-thirds residing in India or China.
North America and Europe consume 45% of global household cotton products.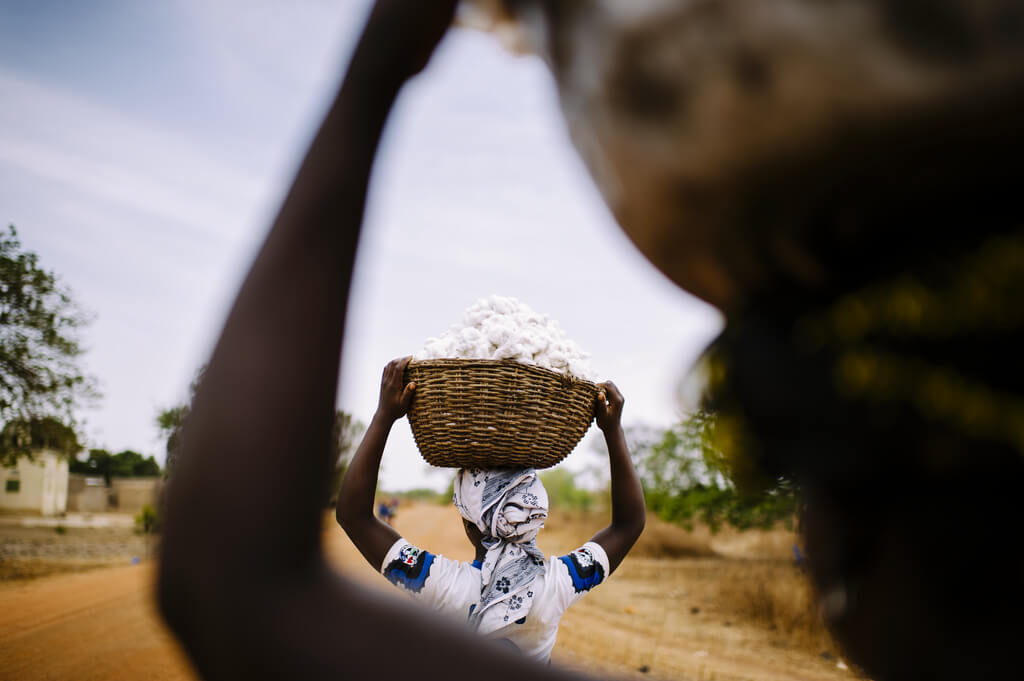 image: CIFOR
A Cleaner Way
As a species we have been growing cotton for over 5,000 years, half as long as when we stopped hunting and gathering, and started cultivating gardens.
Remember back to elementary science; a plant just needs water, soil and sunlight to grow — there is no need for agrochemicals. It's simple really.
Organic cotton cultivation uses no chemicals or toxins to grow, whatsoever. There is no ground water contamination, no toxic health risks to farmers and no risk to you when you wear it.
When done smartly (organic or not) cotton farming doesn't have to be a demoralizing industry.
Organizations like the Sustainable Cotton Project are taking a practical approach. They emphasize that yes, cotton farming is a business/a job, and there can be great uncertainties inherent to farming like weather patterns that effect crop productivity, or the possibility that ones crop could potentially be damaged by insects; these are all real possibilities and when one's livelihood is at stake, these are very reasonable issues to consider. But it's absurd to battle and butcher the challenge with chemical-killers known to harm us now and for generations to come.
Organic is an excellent consumer awareness foundation to bounce from, but other certifications could sprout too for educating towards greater transparency and ethics.
A perfectly folded cotton t-shirt on a brightly lit shelf might seem far off from a hospitalized harvester or polluted rainwater in Brazil, but the circle is connected and your choices are at the center.
featured image: moominsean
Related on spades + siLK:
Support "Dirty White Gold": A Film Doing Something About It
You Are What You Eat: Cotton?!