When a friend told me about the Williamsburg Fashion Weekend, which held its twelfth season this weekend, I was oozing with excitement. Williamsburg is the center of hip, and for them to organize their own fashion event riding on the tail end of New York fashion week was exciting. It got better when I found out the nuts and bolts of the event centered around conceiving and supporting a 'new fashion industry', one with a conscious–this is right up my alley I thought.
Certainly, it wasn't your traditional fashion show–it didn't fit the mold. Set in a warehouse off 3rd St., there was one row of chairs lined up in front of the runway, and a bartender in a faux-fur hat serving Pabst and Brooklyn Lager. The runway was black, not white, and shaped like a T, rather than the long line or sharp U-shape of the traditional catwalk. The models weren't always catwalking either: The first designer, Uta Brauser, was out to make a statement about the rise of gun violence in this country and had her models stomping up and down the runway in bullet proof vests made of the same foam a ninja turtle or superman costume would be, dodging Nerf bullets from an orange safety vested marksmen at one end of the runway.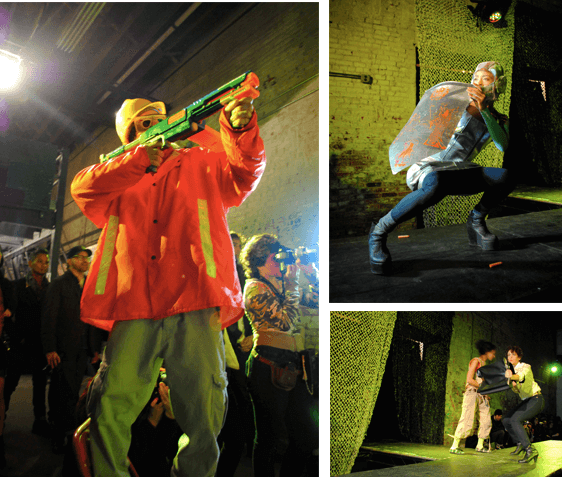 Uta Brauser's collection speaks on gun violence in the US
Other designers exhibited collections made of reclaimed garment factory scraps or organic material. Nathalie Kraynina's collection stood out as a strong representation of femininity. Well-constructed outerwear pieces with leather accessories. And if the models could talk you'd image they would seductively shouted "hear me roam."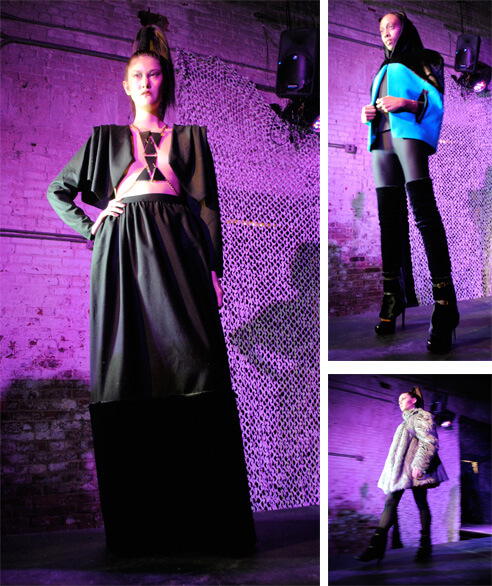 Nathalie Kraynina F/W13 Collection
The show's ideology was walking the righteous path: Out to spread the message that we vote at the checkout, so make your vote count. Fast fashion is getting us nowhere in vain. But as I spoke to a fellow viewer, a young Polish woman living in the East Village who came to the event to see what the Fashion Weekend hype was about she directly reminded me, "Good design should always come first–stand for itself." Her succinct criticism was right. Certainly the idea was there, but some design was lacking. Do we ever really get there, or is it always a process?
Now in it's twelfth season, I trust Williamsburg Fashion Weekend will continue to be held and stand as a counter-fashion show. Let's hope it can stand proud as a guide for how-to-sustainable-fashion and not just a hipster counterculture rebellion.