Nolcha Fashion Week's Fashion Lounge + Media Brunch at Yotel Thursday integrated local eco-production alongside independent designers, including Glocal Connection, Jess Rizzuti, Lilly Lorraine, Amy Delson, and Marko Taylor. Each label brought an exciting energy to the room as they told their stories of conscious production.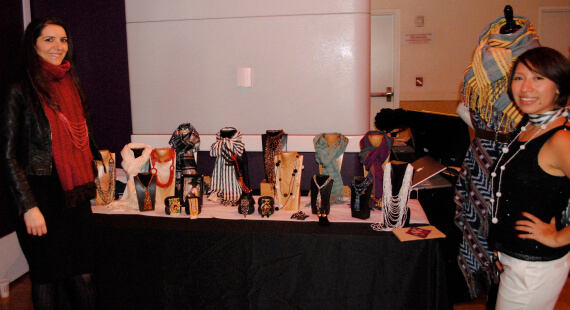 Glocal Connections, an eco-accessory company, has spent four years building up their brand and this year is their first on the market. Co-founder Yen Lam started in fashion sourcing for big companies, but wanted to work with the "people who really make it in the end." She began Glocal Connections, which partners with communities bridging artisan skill and fashion trends. Currently their strongest partnership is in Guatemala. Instead of creating new looks twice a year, they choose to highlight a sector of their production. This season they are focusing on their silk; their partnered community in Guatemala grows the silk worms, spins the yarn and makes the products.
Yen splits her time between Guatemala and New York, and spends months at a time in the Guatemalan community teaching them about the foundations of the fashion industry (production calendars and what's relevant). She isn't out to change their style, but blend it with what is trending in the industry.
The label also celebrates their first year working with Ugandan communities. Soon they hope to expand to collaborations in Morocco.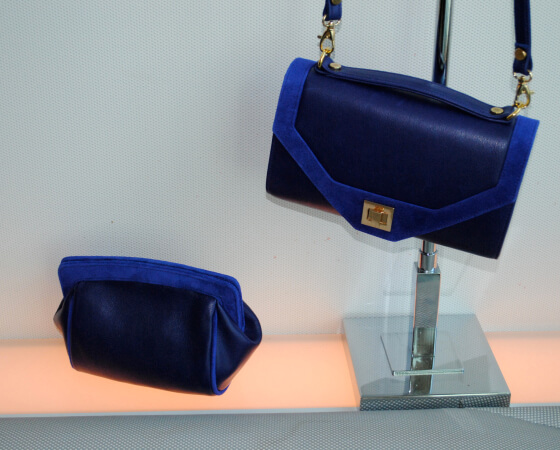 Jess Rizzuti's eco-handbags
Jess Rizzuti makes high-style bags in the Bronx using water-based dyes and glue, heat transferred patterns, renewable resources, and waste reduction techniques. The label aims to be an ethical company "integrating sustainability in as many parts of production as possible," said Jess. Her cork handbags were nominated two years in a row as Best Green Handbag in the Independent Handbag Designer Awards sponsored by InStyle.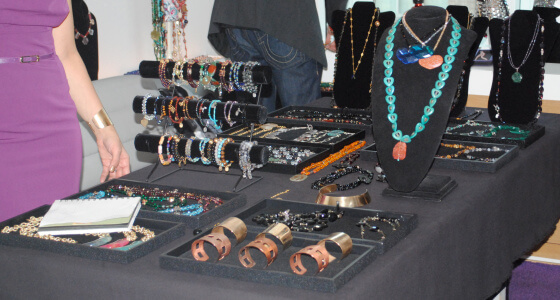 Amy Delson's jewelery "Made with Love in NYC"
Another local NYC designer, Amy Delson, showcased her jewelry at the event. Made "with Love" on the Upper East Side, Delson is passionate about local production. The made to order pieces hold an underlying style of sophistication by combining vintage and new material. "I think the topic of sustainabilty in fashion is so important. With my jewelry I incorporate vintage elements and love to reincarnate pieces from broken unworn jewelry that would otherwise just be sitting in boxes and drawers in womens' homes." Delson told us, "This happens with custom work that I do to make personally meaningful pieces or in creating my collections. In a way I'm helping to reduce the garbage out there and give it new life."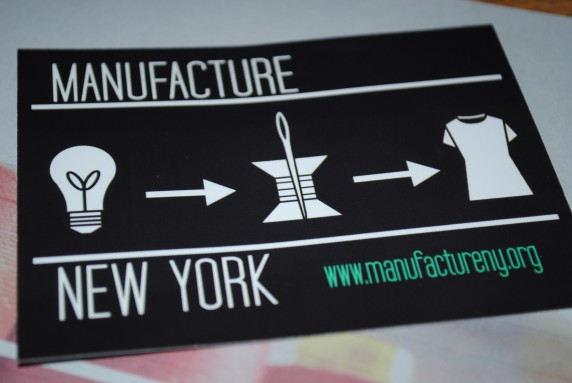 Manufacture NY's CEO, Bob Bland, was also in attendance spreading the message about their new facility and the importance of local production. They were very excited to announce the recent publication of an article highlighting their company in the Wall Street Journal.
Other eco-fashion companies like Marko Taylor and Lilly Lorraine, were also present at the event.