I'm skeptical about vegan bags.
I have no problem with the leather industry if it's done right–when it's a byprodcut of beef, using as much of the animal as possible and chromium and other creepy chemicals stay out of the tanning process.
But like everything, it is a person's choice–and I respect that too.
That being said, when Freedom of Animals came across my radar I was oozing with desire, not because it is all vegan but because their designs are top notch. Minimal, sharp and sophisticated.
As the brand states, the founders created their line "not only to provide an eco-friendly option but to offer a sleek, functional and complimentary design." That's exactly what they deliver with these vegan bags Made in the USA.
So what's it made of? The faux leather material is made of of recycled plastic woven with organic cotton, and colored with vegetable based dyes. All approved by the EPA and labeled as 100% sustainable and cruelty-free.
Whether it's ethics you are after or just a stylish bag, Freedom of Animals has got you covered–and we think they do a damn good job.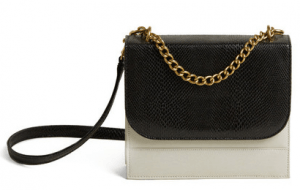 What's your favorite? We are loving the Melia Lia
Shop Freedom of Animals here