If you've ever indulged in basking under the Mediterranean summer sun, you're surely familiar with espardrilles. The classic canvas shoe, famed for its comfort, durability, and effortless chic aire, has been sported by countless Europeans, including Hepburn, Picasso, and Hemingway (we believe, a European by association). But never before has the beloved shoes been made with an ethical twist. That is until now.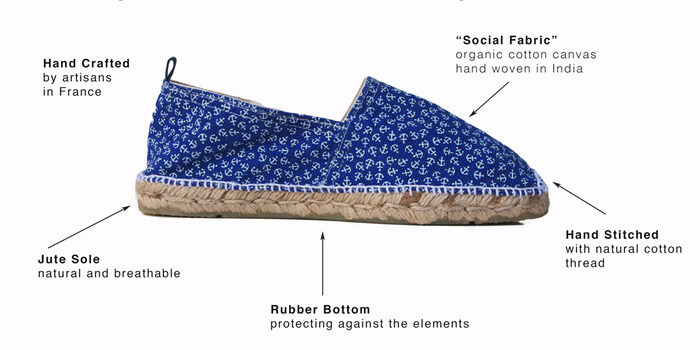 Sofi Khwaja and Nicholas Horekens, quit their day jobs and traveled far and wide, pulling together the right partnership to create an espardrilles whose production process was as simple and trustworthy as the shoe itself. After months of on-the-ground research, Alice & Whittles was born. Cutting out the middle man, the duo aims to partner directly with each person who has a hand in making the shoe.
Made with organic cotton, sourced directly from small-scale organic farmers in India, hand-woven by rural fair-trade artisans, and assembled by artisan manufactures in France, Sofi and Nicholas, co-founders of Alice & Whittles, believe direct connection to the supply chain ensures they are sustainably reducing poverty, as well as providing customers with a quality product.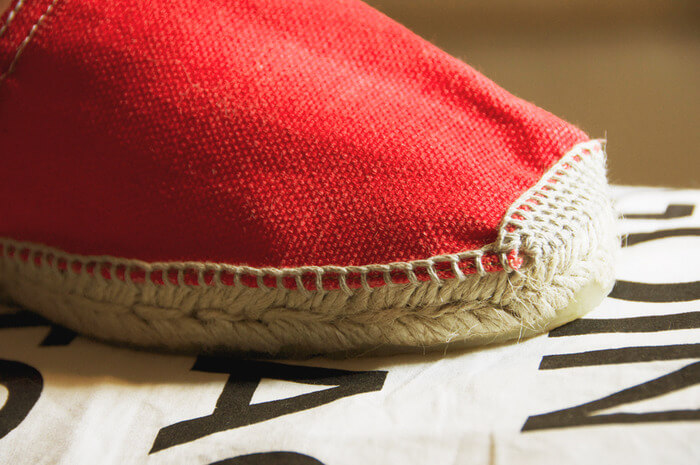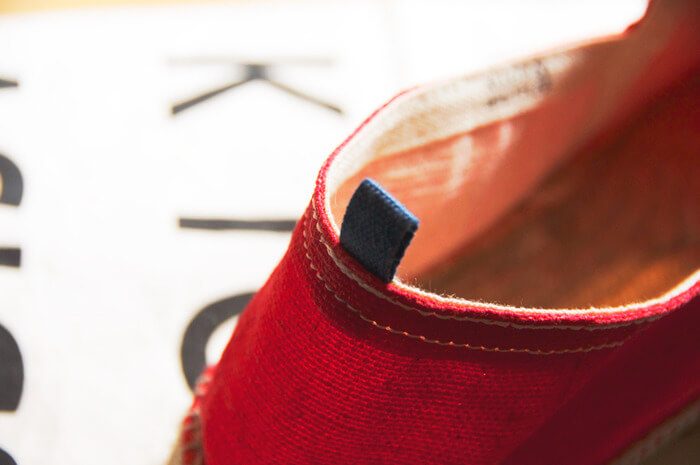 We recently got a chance to catch up with co-founder, Sofi Khwaja, to talk about their inspiration, the excitement of working in India, and what it means to create a quality product.
What was the inspiration behind Alice & Whittles?
Both Nick and myself were humanitarian aid workers prior to founding Alice & Whittles. Working in a humanitarian context exposed us first hand to the after effects of exploitation, corruption and the unequal distribution of power and resources. Seeing the same thing happen over and over again in different regions of the world really does make you call into question the status quo.
Working in this setting also makes you realize how much creativity and ingenuity that people possess – even amidst the harshest conditions with few resources and opportunity. We wanted to harness that creativity and use it to produce something simple but beautiful, while giving back to the people who have a hand in its creation.
Why is eco fashion important?
Fashion is a form of communication, an expression of self to the outside world. Eco fashion expresses so much more beyond colours, cuts and designs – it is expressing a vision of the world we want to live in. Consumers have a huge amount of power to make positive changes in the lives of people through their consumption choices and this shouldn't be underestimated.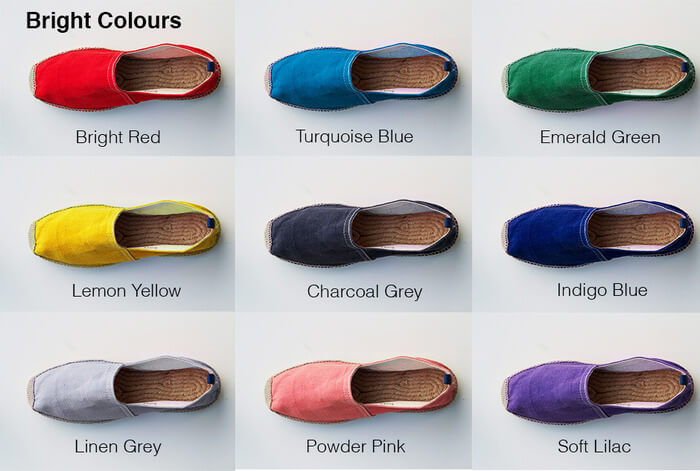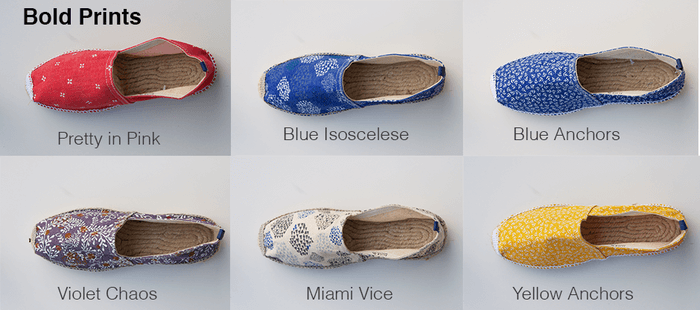 Their spring/summer 2013 collection is made up of a diverse array of colors, patterns and textures for every personality–from bold to classic colors, embroidered patterns to original canvas.
What do you believe makes a quality garment?
A quality garment is one that is made with care, thought and attention to detail. More often than not, massed produced garments just can't achieve these ideals. There is something so thoughtful, mindful and personal about an item that has been handcrafted. Even if it has originated from places we have never been, it builds a sense of community, from one person to the next bridging borders, race, language and cultural.
What was it like to work in India?
It's hard not to be taken by the excitement of India. From the bustling mega cities to the tranquility of rural villages, it is an incredibly diverse country full of both contrast and colour.
Our search for partners took us across the country from Delhi to Chennai, from big cities to rural outposts. In doing so we managed to get tapped into a group of incredible people who are taking a very creative approach to 'development', through crafts. By working with local NGOs we are able to sustainably support local craft communities through the production of hand woven canvas for our espadrilles.
What is your personal motto?
We are not all that different, regardless of where in the world we originate.

Like what they are doing? Us too! After all their hard-work creating the foundation of such a forward-thinking company, they need your help. Any support to their kickstarter crowd-funding campaign makes a big difference. Plus, if you contribute you'll score some great perks!
All photo credit Alice & Whittles