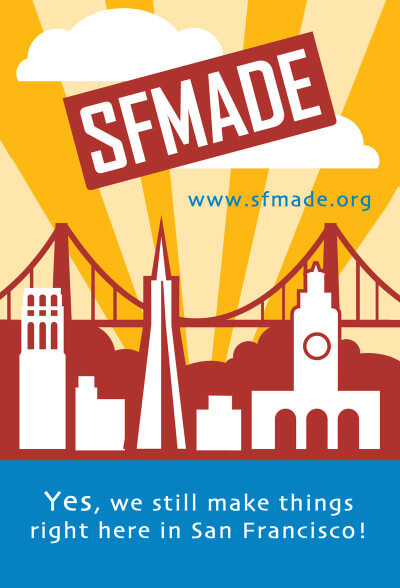 Local manufacturing is taking a turn for the better all around America.
Over the last ten years, a slow but steady trend aimed at redirecting manufacturing back to the United States has brought new hope to local economies. SFMade is proving even in one of the most expensive cities in the US, we can manufacture and be damn successful.
Encouraging entrepreneurship and locally made products in the heart of San Francisco, SFMade is a nonprofit organization tailored to building and supporting manufacturing within SF. They offer educational workshops, factory tours, and other programs designed to heighten the public awareness of manufacturing, the craftspeople they employ, and their collective role in the local economy. Over 400 companies have partnered with SFMade.
As Mark Dwight, who started SFMade in 2010, explains, "For decades we have developed a culture of disposability — from consumer goods to medical instruments and machine tools. To fuel economic growth, marketers replaced longevity with planned obsolescence — and our mastery of technology has given birth to ever-accelerating unplanned obsolescence. I think there is increasing awareness that this is no longer sustainable on the scale we have developed." Dwight understands the 'pride of place' that comes with local production and he calls the push "geographic ingredient branding."
The nonprofit doesn't solely support environmentally friendly products but Kate Sofis, executive director of SFMade says, "While we do not select (or not select) companies to participate in the SFMade community based on sustainability or 'greenness,' we find that the ethos of San Francisco manufacturers — the vast majority of whom make consumer products — has a strong bent toward naturally wanting to incorporate sustainable elements into both their product and process."
As consumers become more aware of the role paying a little more for locally manufactured products plays in building community sustainability, these business, and organizations who support them, will only continue to grow, providing customers with the well made, innovative goods they need.