'Rare Birds of Fashion' is a new digital comedy written and directed by Lily Hayes Kaufman, co-created with Jackie Schwartz. BRENDA (Jackie Zebrowski) an ambitious, stylish, confident and plus sized woman living in NYC who launches a plus size fashion line with her best friend ALIX (Haley Rawson).
A breath of fresh air, the show's story is centered around serving the underserved — the plus size community within the fashion industry, which makes up 75% of American women, but only 20% of the market's stocked shelves.
Beneath the witty writing and sharp tongued humor, co-creators Jackie Schwartz and Lily Hayes Kaufman tell an empowering message of what it means to stand up against the odds. We caught up with Jackie and Lily to learn more about the show + talk grit, promiscuous protagonism and strong women in new media.
1. Rare Birds of Fashion is fun and witty TV Show about a young woman trying to start a plus size fashion line. How did this project come into fruition?
Jackie Schwartz: I worked with the 'Rare Birds of Fashion' writer and director Lily-Hayes Kaufman a few years ago on a movie called "Kill Your Darlings." We worked on a team of four women, all of whom were very different but had a passion for storytelling in its simplest form. What I loved about working with LH and these women was that we all believed in the idea of teamwork – we truly supported each other's individual ideas. It was a lot of hours crammed into a janitor's closet, basically, but we had each other and that's what got us through it.
Flash-forward to a few years later, and LH had just gotten off a film called "St. Vincent" (recently nominated for a Golden Globe) and was looking for projects centered around strong, career-driven women. I, at the same time, had been working on a collection of essays entitled "I Only Came For The Food" about what it was like growing up plus size. LH approached me with the idea for a character "Brenda," a new character who is ambitious, intelligent, and goal-oriented and who also happens to be plus-size. It was important for us to start with the character of Brenda, and the rest of the story blossomed from there.
Lily Hayes Kaufman: Why aren't there were more women playing ambitious career driven characters on TV. Wouldn't it be awesome to see more healthy on-camera role models for young women? Why aren't there more plus size women playing ambitious roles on TV? These are all questions I kept asking every time I turned on the TV or a movie. Finally I thought, why don't I just create a new awesome ambitious heroine by writing my own story? Better yet, why don't I team up with Jackie! We brainstormed ideas inspired by Jackie's experiences as a plus size gal. I turned these into eight short form episodes about fictional heroine "Brenda."
2. Can you tell us more about the story within Rare Birds?
LHK: 'Rare Birds of Fashion' is about BRENDA (Jackie Zebrowski) an ambitious, stylish, confident and plus sized woman in NYC who launches a plus size fashion line with her best friend ALIX (Haley Rawson). The show celebrates American women. Exploring career, friendship and healthy body image, the series promotes ambition, loyalty, and confidence in young women. Most important, 'Rare Birds of Fashion' features intelligent, loyal, career driven and funny women in leading roles.
Our main character Brenda works for BOSS LADY (Stephanie Gibson) and her designer henchman UBER (Christopher Chwee) at a top NYC fashion house. Brenda dreams of running her own plus size high couture fashion brand. Brenda is sick of shopping from SNOOTY SALES LADIES (Zoe Geltman) who only sell tiny sizes, and frustrated by working for a fashion company that designs for one shape only. Teaming up with ALIX, her best friend, Brenda is determined to prove Boss Lady wrong, and make her MOM (Tony Award winner Nancy Opel) proud, by launching her own line of couture for fashionable women of all body types.
JS: Rare Birds is about self-empowerment. While Brenda is plus-size, we really see anyone who has ever doubted themselves for not confining to society's idealized version of a person relating to her. Brenda is confident, intelligent, and makes up her own rules as she goes. We hope that when people watch Rare Birds, they'll realize that they don't have to fit any stereotype to take risks and be successful. Strong females and friendships is a driving force of 'Rare Birds of Fashion.' I recently read an article by Lili Loofbourow in the NYT Magazine called "The New Girls' Club." Loofbourow talks about how we're moving away from "the third golden-age of television" where the dysphoric, male anti-hero rules the screen, and into something called "promiscuous protagonism," where women are front and center, sharing the screen. While these characters are dealing with important (and sometimes dreary) issues, they are handling them together, and the outcome is much lighter and playful than it is dark. After I read that article, I was confident that 'Rare Birds' can stand next to any show taking on this form of storytelling, like 'Orange Is The New Black' and 'Transparent.' Brenda and Alix's friendship is such an important element of the show as it stands for women sticking together and supporting one another.
3. How have you applied issues in the fashion industry to the Rare Birds storyline?
JS: Certainly. I think the most important issue Rare Birds of Fashion showcases is that the Media is not paying enough attention to the plus-size industry. Recently, I heard that Ford Models closed down its plus size division, which happened to be their most lucrative department. I asked someone in the plus-size clothing industry why they would do that, and she said because Ford Models wants to become more "high-fashion." I was outraged at that because it says to me that plus-size people don't deserve quality fashion. What kind of message is that sending? And how can we – women of all sizes even – change that? I think Rare Birds definitely starts that conversation. And FYI – the good part of Ford's unfortunate mistake, though, is that all their former plus-size models started their own agency called ALDA. It's really empowering.
LHK: Exactly. The plus community is underserved by media and fashion. In the real world, the average American Woman wears a size 14, and nearly 75% of American women wear larger than a size 14. Yet, plus size clothing accounts for less than 20% of the $110 Billion + apparel industry. The numbers don't add up… there must be millions of women in America who have money to spend on clothing, but who aren't. In Rare Birds of Fashion, our heroine Brenda questions these same numbers, and sees a business opportunity to launch her own plus size fashion line.
Look at Melissa McCarthy, for example, she is a super successful actress and filmmaker. Her most recent films have made almost three quarters of a billion dollars at the box office, and even she can't get designers to dress her for the red carpet! So she launched her own plus size fashion line. Last week she literally wore a DIY dress to the Golden Globes. That is very cool.
4. What stereotypes, if any are you trying to breakdown throughout the show?
JS: When we created the character of Brenda, I actually had Buffy Summers (from the cult 90s show 'Buffy the Vampire Slayer') in mind. The show's creator Joss Whedon once said in an interview that he created the character Buffy to dispel the stereotype that the small, blonde female would be the first character to die at the beginning of every horror film. Being plus size myself, I wanted to dispel the stereotypes that many people hold of heavier women especially. I don't sit home all day on my couch with tubs of ice cream – in fact I work full-time, take on side projects, and am constantly on the go. I'm proud of who I am, what I've accomplished, and I can't wait to show the world what we're all capable of. I really see Brenda a superhero for women of all shapes and sizes.
LHK: Forget all the stereotypes! And instead let's introduce a new woman: She is intelligent, she confident, she is ambitious, she loves her body. Let's use popular media to change how society thinks and behaves. Let's use TV and movies to empower women. The more smart, strong, ambitious, awesome women characters young women (and men!) watch on TV, the more empowered I believe young women will feel to pursue their ambitions. And by the way, it's fun to be smart… just ask Amy Pohler, or check out her web series 'Smart Girls at the Party.'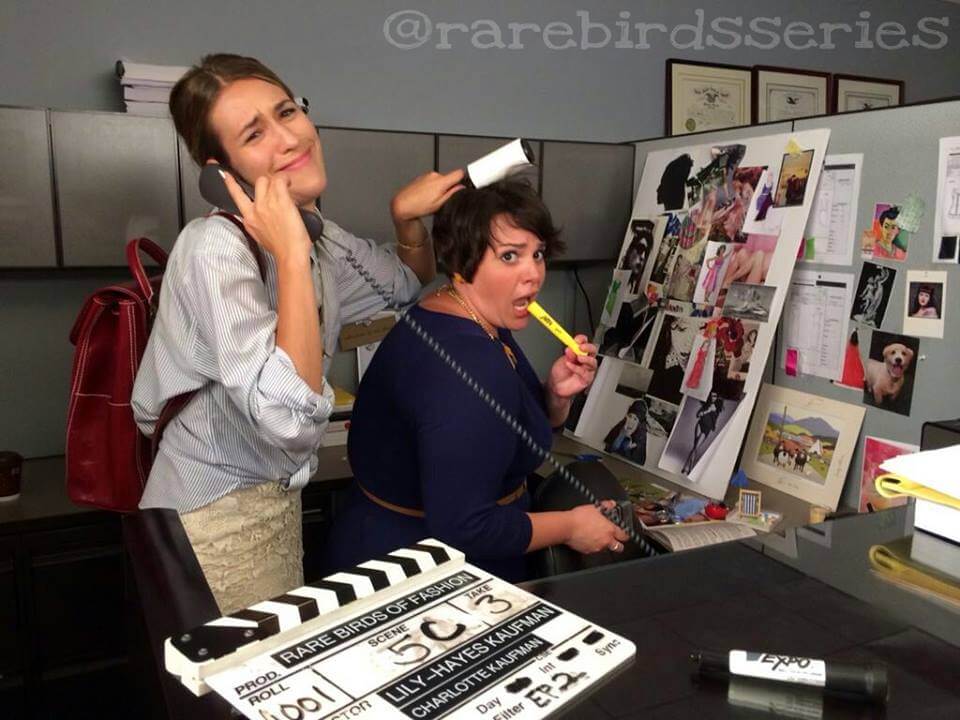 5. If Brenda, the main character had a personal motto, what would it be? your personal motto?
LHK: "Achieve the Unexpected." That's a motto that "Brenda" and I would both stand behind. It's a motto I think any young entrepreneur, unknown writer/filmmaker, or really anyone who has big ideas and ambitious can relate to. When you have a goal or a new idea you will face a lot of scrutiny. Your idea isn't worth pursuing, your startup will fail, your script isn't any good. But of course the naysayer don't expect this idea to succeed, if they did… they would have started the company themselves, written the same script, etc. So stick with your guns, if you are smart, hard working and you believe in your goal, you will achieve it.
JS: For awhile I was going around saying "Don't let anyone dim your shine," but after watching Gina Rodriquez accept her Golden Globe for 'Jane the Virgin,' I've taken on her personal motto of "I can and I will." I think this holds especially true for Brenda, who is constantly being confronted with numerous challenges at work, at home, and in everyday life. In one episode of Rare Birds (one of my favorites), you'll meet Brenda's helicopter mom, who can't accept the fact that she is happy and healthy. When you have people around you constantly questioning who you are, I think you have to look in the mirror (as Gina Rodriquez did every day) and say "I can and I will."
6. Where can people watch Rare Birds of Fashion?
LHK: I'm working with our two editors Sharon Perlman and Dave Rogers to edit the series now. In the mean time check out behind the scenes, watch our teaser videos, meet our cast and crew and get to know our characters on the Rare Birds YouTube Channel.
7. When can people expect to see more Rare Birds of Fashion?
LHK: Our IndieGoGo supporters will get to preview a sneak peak of the Director's cut in the next couple of weeks, and the final version I expect to release later this Winter. We are working with awesome local artists to license fantastic music, and Danny Greene of Sidewalk Atlas is composing the score. Danny also wrote the Rare Birds Theme song, titled 'Big City' specifically for the show. The song is super catchy, just wait until you hear it, you won't be able to stop humming it all day. All of these parts will come together later this winter, we will do a final sound mix and color correct to ensure the picture and audio looks and sounds its best, and then we will be ready to release to the world!
'Rare Birds of Fashion'
Jackie Zebrowski, Haley Rawson, Stephanie Gibson, Christopher Chwee, Anne Gottlieb, Nancy Opel, Zoë Geltman, Lloyd Kaufman
Written & Directed by Lily Hayes Kaufman
Cinematography: Charlotte Kaufman
Created by Lily Hayes Kaufman, Jackie Schwartz
Produced by Pat Kaufman
Production co: SATURDAY CANDY FILMS
Contact: LH Kaufman at rarebirdsoffashion@gmail.com