"Um, and you can't use any electricity on her hair. I'm fine with no makeup too."
No shoes. No Makeup. No Runway.
Project Runway is back for its twelfth season! And from the first episode we can already see which designers have an eye for detail + design, and who needs to go. But HELLO!, Mr. Timothy Westbrook, a designer from Milwalklee has boiled my blood.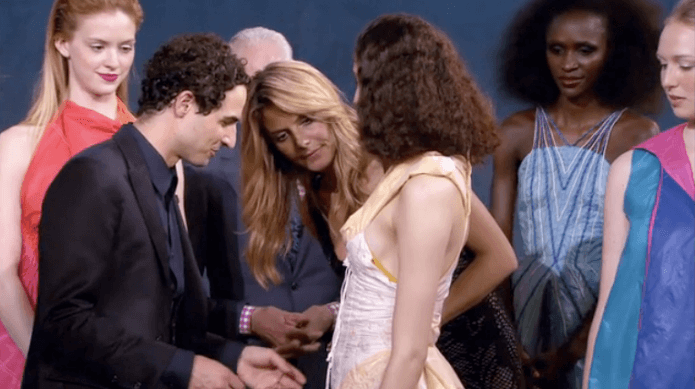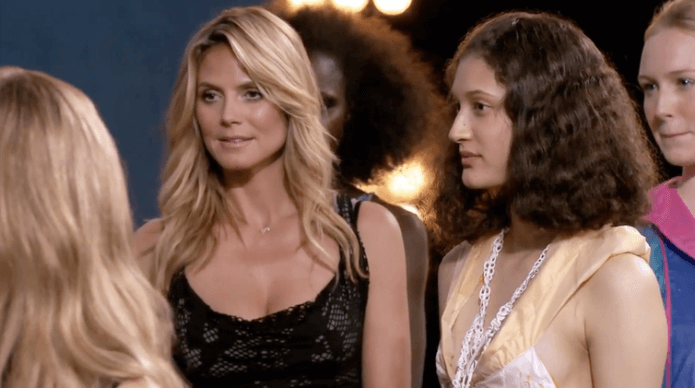 Judges critiquing Timothy Westbrook's dress made of burned nylon fabric.
He totes himself as a sustainable designer, but he's as ignorant + persistent as a horse fly on a beach. He wouldn't use any electricity for his model's styling–so no hairdryer or curler, and even no makeup. Rather than make an educated point about not wanting to use L'Oreal products (the Project Runway hair and makeup sponsor) on his model due to their toxic chemical additives, he's chosen a stance of ungrounded radicalism. Plus, he had her walking down the runway barefoot (while he himself sported some glitzy stilettos, yes he really did). In the name of sustainability, he said he doesn't use sewing machines and only works with dead stock fabric. Then he mumbled something about unicorns' hearts?! WTF.
Yet, throughout Timothy Westbrook's bogus charade, he was OK burning the parachutes synthetic nylon fiber for a unique effect–Thank you Zac Posen for pointing the obvious–that this practice is completely contradicting his 'values' as a designer.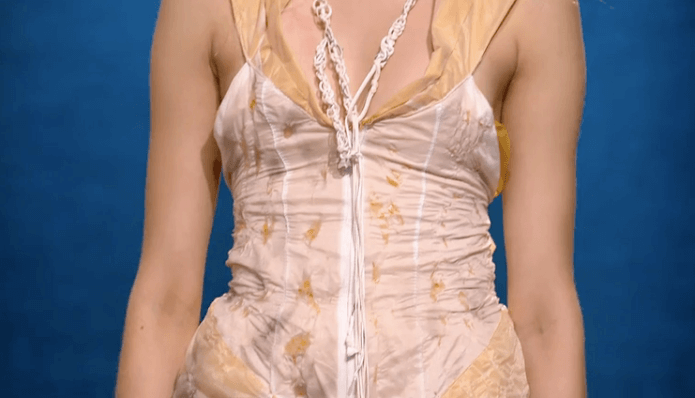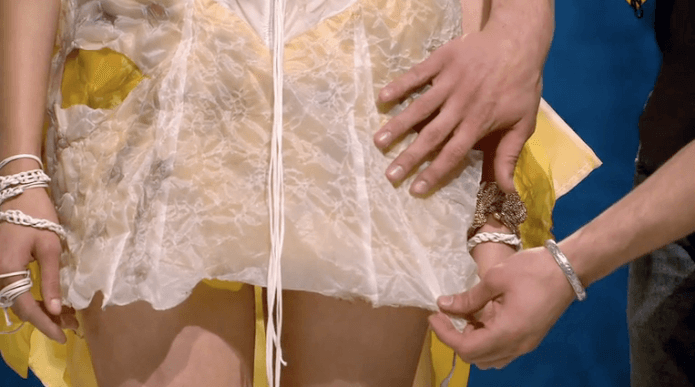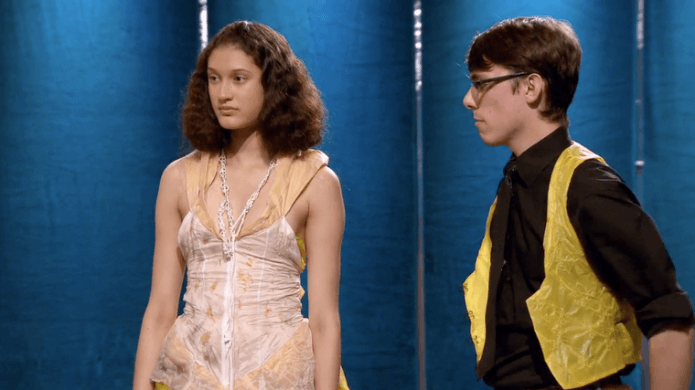 As one critic wrote, Timothy is "SustainaBULL" and another commented, "Timothy is about as self-sustaining as a can of Aqua Net."
We couldn't have been prouder when the ever graceful Nina Garcia said: "I am excited to have someone that is so conscious. But however, you are behind a very powerful cause, so I think that you should work even harder to make it as beautiful as possible….
I want sustainable fashion to be gorgeous. Otherwise it is a disservice." – Nina Garcia
Sustainability in fashion must always be design first. And sorry Timothy your "Tinker Bell at Burning Man" dress did not make the cut. Of course, we are interested to see what will happen next episode, but readers, this is NOT sustainable fashion.
You can watch the full episode here
All photos from Project Runway Season 12 Episode 1