Many of us live our lives through social media. Twitter, Facebook, and Instagram are as habitual as meals; often more regular. In 2013, the Pew Internet conducted a study on 'the social media update' and found some 73 percent of adults online use at least one social networking site, and some 42 percent of adults online now use multiple social networking sites. Creating and maintaining an online presence via social media is the most successful marketing and branding tool; and the majority of it is free.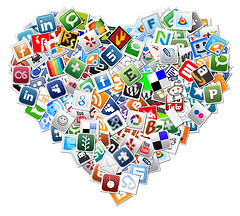 Even online bingo sites use social media to develop a sense of community among avid players. Cashcade Ltd.'s Foxy Bingo tweets new promos to 10,000 of its followers! Cheeky Bingo, which has over 7,151 Twitter followers, tweets to promote new games and communicate with fans.
As no industry has gone untouched by the ability to leverage a brand through social media, the fashion industry too has jumped in feet first. According to Macala Wright Lee, CEO of FashionablyMarketing.Me, a digital marketing and merchandising firm, "The Fashion Industry has adopted social media as a marketing platform to reach their customers online and reignite brand passion and customer loyalty." In fact, fashion designers are leveraging the promotional powers of social media to bring in flocks of attention in the recently concluded New York Fashion Week.
NY Fashion Week used to be an exclusive affair, and only the elite within the industry gained access to the star-studded event. Nowadays, anyone with an Internet connection can Oo and Aah via live streaming. Social media also brought the public to this year's Mercedes Benz Fashion Show, and proved anyone via social media can do a brands marketing for them and spreading the message through ones personal networks can be more effective. At the Daisy Marc Jacobs Tweet Shop in SoHo, customers paid for tiny bottles of the Daisy perfume not with money, but by simply "Tweeting or Instagramming" the #MJDaisyChain and showing it to the cashier. This event was even graced by actresses Anna Kendrick, and yielded some 8,000 tweets over the past week.

Last season, digitally-savvy designer Rebecca Minkoff partnered with Snapchat to send now-you-see-it, now-you-don't sneak previews of her Spring 2014 collection. And recently Minkoff joined forces with Keek, a platform for sharing video status updates. She is uploaded several videos per day to her 1500 followers, sharing preparations for her show last February 7, including mini-interviews with her models and sneak peeks of her Look Book.
Check out the upcoming [ethical] Fashion + Social Media takeover #INSIDEOUT for Fashion Revolution Day on April 24, 2014
This is a guest post by Sandra Hill
images: Dashing Communications, Kathleen Donovan and SongofStyle