When I first saw the Rodin beauty line I was instantly intrigued. It was as if the thoughtful simplicity and sharp elegance of the product was paralleled by the packaging — there was no extra glam and glitz, only the necessities.
And that's precisely what you get from Linda Rodin's line. Her products are a reflection of who she is as a woman and her career experience as the fashion editor for Harper's Bazaar.
What I longed for was something far simpler products for the here-and-now, that caress the skin noticeably and without any delay. Nothing out there did quite that.
The beauty collection started as a year long project mixing essential oils in her bathroom, and the perfected formula eventually became Rodin's face oil. Next was a body oil, made with 11 essential oils, all from botanicals and plants. And Linda isn't hiding what is in her perfected blends, in fact she's detailed each ingredient (jasmine, jojoba, sweet almond, apricot, evening primrose, calendula flower oil, neroli oil, sunflower, argan oil, rosehip oil, and arnica montana flower extract–for the face oil in case you're wondering–or crafty). More so, she details why each oil was chosen and what effect it has on the skin or hair.
Next was the hair and lip balm which debuted in 2008 and 2009, respectively. Most recently, just launched in 2011/2012 the crema, candle, and perfume. And keep a look out for a facial cleansing powder which will be added to the beauty care line in September 2014 (tip: also started in her bathroom!).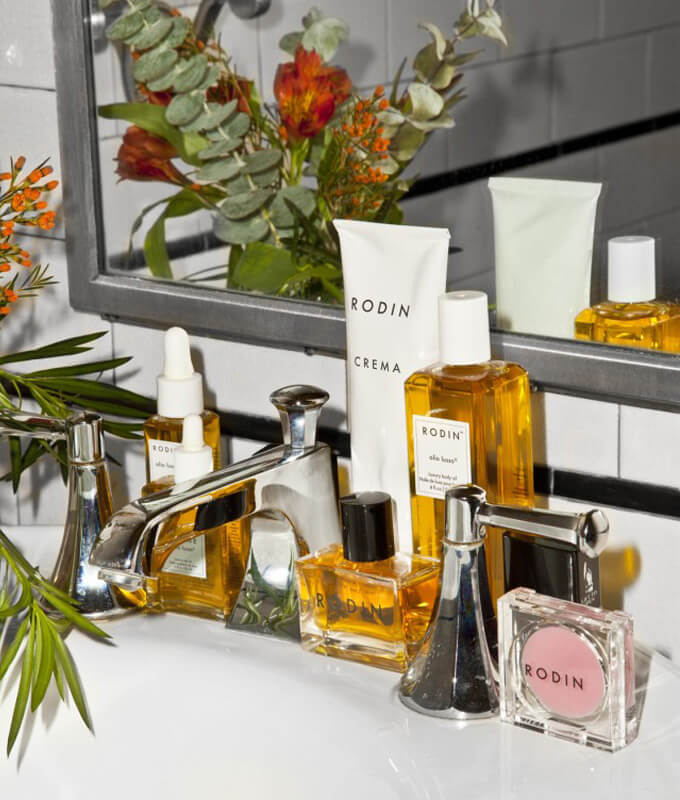 Linda knows we only need the necessities and all Rodin products are a "model of sparse elegance."