Michelle Garcia, founded pure & true during her pregnancy with her son and as she was building the first LEED certified home in Hawaii. During her simultaneous pioneering, she began to learn about the toxics inherent in our traditional homes and cosmetics. Shocked at what she was finding, she set out to create her own line of luxurious organic products and the purest restorative spa experience, and gave us what we now know to love as pure & true organics. "We believe that true luxury is a sense of peace and well-being – indulging oneself while giving back and treading lightly on the Earth."
Pure & True uses the finest organic ingredients, but this is far from sacrificing the quality of their lines. Used by celebrities like Halle Berry, Sienna Miller and Jennifer Aniston, the company has proved itself to bethe top of the line.
Organic ingredients are a richer source of nutrients and antioxidants. Second, organics put fewer toxins in our body, and our environment—benefiting both systems.
Free of parabens, artificial colors or fragrances, sulphates and petroleum-derived products, they use ingredients like antioxidant organic teas, marine and tropical extracts and precious flower oils to indulge and feed your skin.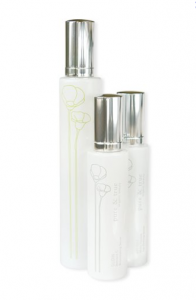 Pure & True take their passion for the environment beyond the ingredients they use, by their green and sustainable packaging, buying carbon credits for all the goods they ship, and donating 5% of profits to organizations like Women for Women International, The Nature Conservatory and the Carbon Fund.
Founder Melissa Garcia's favorite products are the "Affirm Serum and Infuse Moisturizer used together deliver amazing results. My skin literally glows and looks years younger!"

Check out their products here.