Natural beauty tips from entrepreneur Susanne Kaufmann
Susanne Kaufmann hails from a unique valley in the Alps – the Bregenzer Forest – where the rich knowledge of nature's healing powers have been passed down from generation to generation. From an early age, Susanne has been fascinated by the intensive effect of endemic Alpine plants for beauty, health and comfort.
Her favorite products, top beauty tricks and tips unveiled:
The indispensable items in my makeup bag are: Helena Rubinstein's Lash Queen mascara and Jane Iredale's Purepressed Base Mineral Foundation in "Warm Silk."
My perfume is: nothing. I stopped wearing it when I was pregnant with my first child. I wanted my kids to smell their mom, not Chanel No. 5.
One of my favorite beauty ingredients is: ectoine, a naturally occurring plant cell protector. It's quite expensive but it's marvelous for cell regeneration. We use it in our antiaging skin-care range.
The best superfoods for the skin are: tomato and red beet. They're good for detoxing and antiaging.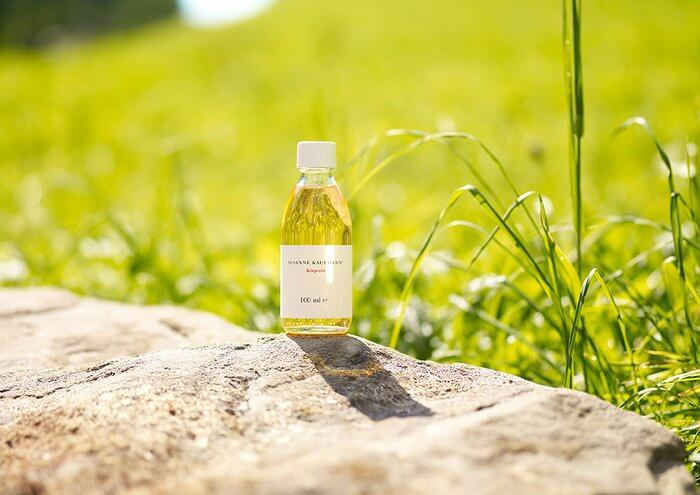 The best DIY trick is: to put whey and olive oil in a bath and soak in it when my skin is dry from the sun. I also put olive oil in my hair when it's dry from the sea salt and leave it over night.
The first product I ever created was: an essential bath oil with rosemary. One of the most recent is an amazing Detox Oil Scrub. You put it on dry skin, then you go into the shower, rub it off and you have perfect skin that doesn't need to be moisturized when you come out.
To recover after a long night: I use my Eye Cream Line A, and I clap my face like they do in traditional Chinese medicine. Not a little bit, but very hard! It gets the toxins out and your blood circulating and helps your cream absorb quickly.
The spa I admire most is: the one at the Schloss Elmau hotel in Germany. It's like a castle.
My diet is: very conscious but I love food and wine, just not things that have been chemically preserved.
I learned about beauty from: my grandmother, who was very good with herbs. She made her own arnica schnapps, and used it for everything. If your knee was hurt, she'd put her schnapps on it. She also used to wash my hair with a mixture of beer, eggs and camomile to make it more blonde. It was a two-hour ceremony!
This is an excerpt from an interview by Alexa Brazilian for the Wall Street Journal titled Susanne Kaufmann's Beauty Secrets.
images via// The Line | Susanne Kaufmann