Did you know as much as 60% of all topical products we put on our skin absorbs into the bloodstream? Yeah–so that's just one reason we love 100% Pure, a vast line of beauty products made with organic, vegan and fruit pigment ingredients that give your skin a natural and healthy glow. No funny business like synthetic chemicals or artificial flavors, its all completely, well, 100% Pure!
Below we've listed our five favorites (plus, their prices agree with any budget).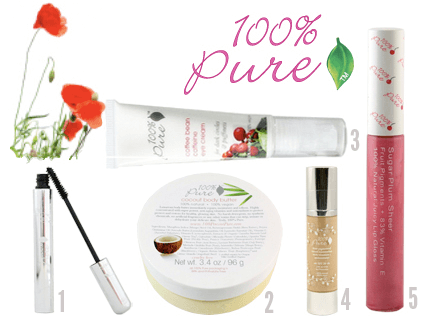 1. Fruit Pigmented Mascara, $18
100% natural mascara lengthens, separates, thickens and glosses lashes with fruit pigments and Black tea pigments. Lash conditioning ProVitamin B5, Vitamin E, Oat and Wheat protein conditions for healthier lashes. Gentle, all natural, good for you formula is suitable for everyone, even if you wear contacts or have sensitive eyes. Water and smudge resistant.
2. Coconut Body Butter, $16
Luxurious body butter immediately repairs, moisturizes and softens. Highly concentrated with super potent, anti-aging vitamins and antioxidants to protect and restore for healthy, nourished skin. No synthetic chemicals, no artificial fragrances, no chemical preservatives or any other toxins that can strip, irritate or dehydrate your delicate skin. Truly, 100% Pure
3. Organic Coffee Bean Caffeine Eye Cream, $19
Anti-inflammatory, caffeine rich green tea and coffee de-puffs while increasing circulation to brighten dark circles. Concentrated with potent anti-aging vitamins, antioxidants, and nourishing rosehip oil to make eye area look more awake and more youthful. Truly, 100% Pure.
4. Fruit Pigmented Tinted Moisturizer, $32
Tinted with natural fruit and vegetable pigments to give your complexion a flawless appearance while feeding your skin with nourishing white tea, acai oil, pomegranate oil and vitamins. Antioxidants protect your skin from other environmental hazards such as pollution, smog, smoke, exhaust, etc.
5. Sugar Plum Sheer Lip Gloss, $13
100% Natural lip glosses made with Vitamin E from organic rice bran and beautiful colors from fruit pigments. Vitamin E is a powerful anti-aging antioxidant that drenches your lips with moisture and deeply softens.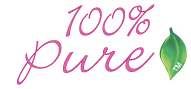 Check out their entire beauty line here.