Working with cooperatives of herders in beautiful Mongolia, as well as spinning, processing and knitting companies, Tengri aims to help preserve the Mongolian landscape, support nomadic herders' way of life and create lovely sweaters — all in one.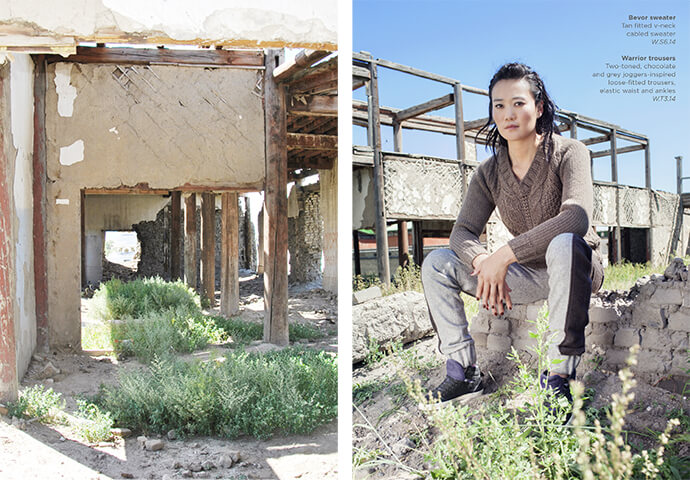 We have had our eye on the label for a while, and finally got the chance to catch up with founder and social entrepreneur Nancy Johnston about what it is like to partner in Mongolia
Juliette Donatelli: Tengri sources all wool from within Mongolia, how was the connection between the founder and the local community forged?
Nancy Johnston: Last year, I was finally brave enough to travel to Mongolia, a lifelong dream I had carried for 20 years. The vast landscapes, the nomadic herders' way of life, the strength and self-reliance of the Mongolian people (young and old) living off the land and animals in such a remote and isolated place all captivated me.
What I also discovered – accidentally – was that Mongolian yak wool and the nomadic way of life and future of wild animals are threatened by rapid industrialisation and desertification of the land, largely because of intensive grazing of cashmere goats. Our consumer choices in fashion are responsible.
I also realised that entire wool and textile industry in Mongolia depend on government subsidies, and those subsidies were generating by the booming mining industry.
I also discovered yak wool is a sustainable and eco-friendly alternative to cashmere. Just because the world doesn't know much about the amazing qualities of yak wool, there isn't a significant demand for it. In fact, yak wool is as soft as cashmere, warmer than merino wool, breathable, odour-resistant and hypoallergenic, and less prone to balling and fluffing than other fibres.
I wanted to help and it made sense to launch a business that supports the traditional Mongolian nomadic way of life, protect the animals and the environment by taking this wool to new markets through fashionable knitwear.
I was put in touch with two cooperatives of Mongolian yak herders and met with the leaders and explained my idea about creating an aspirational business which was based on a 'fairshare' business approach. Based on mutual trust and a handshake, I bought my first tonne of wool and that was how it all started.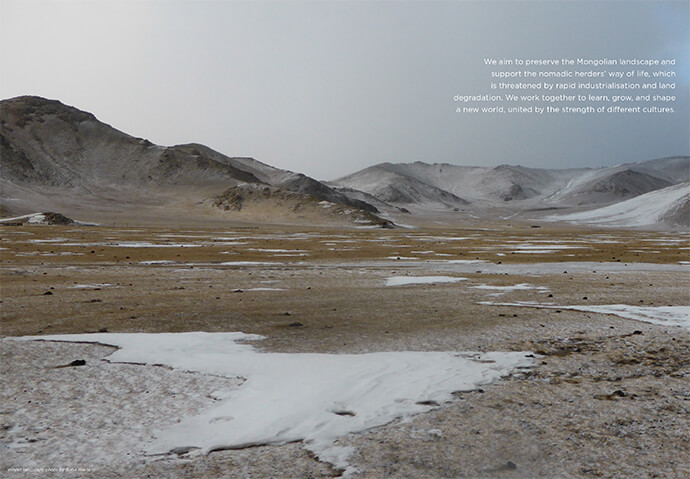 JD: Yak wool is extremely warm and luxurious, and moreover your brand supports the thriving of a marginalized community. What are some of the positive benefits you have already seen grow out of your business relationship? And how do you hope it will continue to grow in the future?
NJ: Part of the work behind Tengri is to facilitate on-going meaningful dialogue and community action. We travelled back to Mongolia to show the herder families the results of our work. Many of them have never seen knitwear, let alone yarns made of yak wool, so we decided to recruited local models and held a fashion show in their honour.
We also found out that pollution in and around the nearby Tamir River concerned the community. So, we partnered with RockCorps, a non-profit organisation that uses music to inspire people to volunteer in exchange for live concerts. We worked with young volunteers to collect 200 bags of litter.
We organised a music festival the following day, where Quiza, the Mongolian Bling hip hop star, perform live as the headline act for 1,500 people in the remote town of Tsetserleg, in the Arkhangai province of western Mongolia.
Through fashion, music and so much more we connected with people in the local community and touched people interested in social responsibility and environmental activism. We will organising the Tsetserleg Festival and fashion show every year, making next year's event even bigger and better.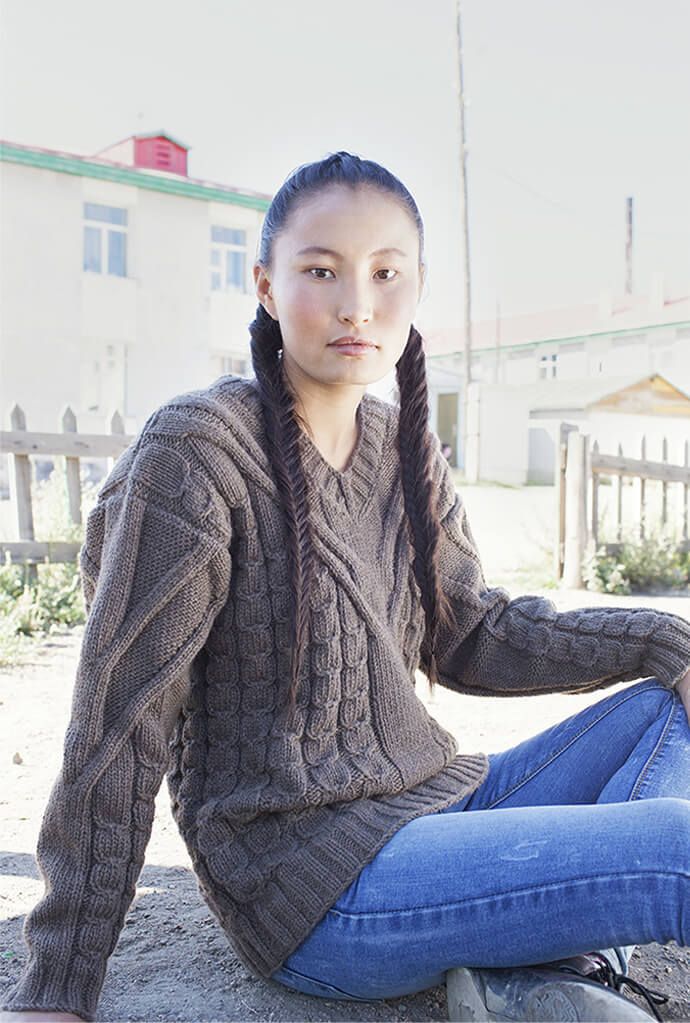 JD: You have spent a lot of time with these peoples. Can you describe what the traditions, customs and lifestyle is within the Mongolia community you work with?
NJ: Nomadic herder families migrate 4-8 times a year in search of new grazing pastures for their animals. They milk their animals twice a day, everyday and have milk tea to drink and live off of animal products. Their whole existence is based on the delicate and interwoven relationship between the land, animals and environment.
In Mongolia, when you are invited into a ger, it is important that you enter the home to your left and never turn your back to the host which is considered disrespectful. You are always welcomed with a bowl of Mongolian milk tea (suutei tsai) or sometimes vodka. It's important to receive the drink or anything with your right hand. It's customary to dip your right ring finger into the drink and flick the liquid above your head into the air four times for the four winds to offer Tengri a taste. The word 'Tengri' means a pantheon of sky gods that govern human existence and natural phenomenon on earth. When you travel through Mongolia, you're always under the endless blue skies and you see blue ribbons around trees, rocks and other spiritual places created to worship Tengri.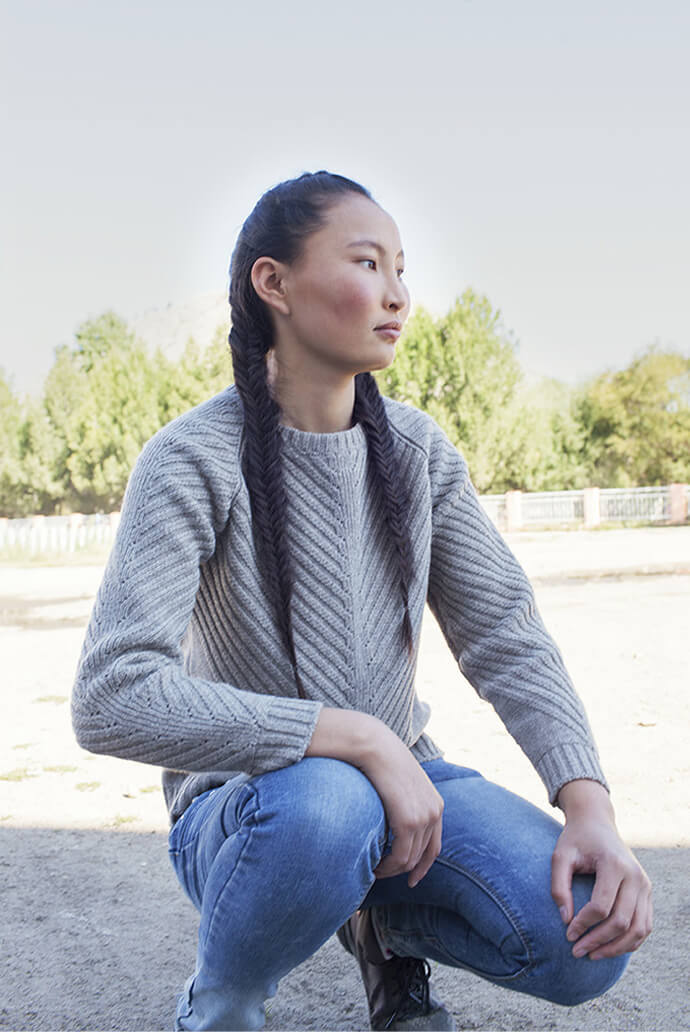 JD: You have partnered with an Italian designer. Can you talk a little bit on how this partnership came to be?
I couldn't design if my life depended on it so my rock climbing friend introduced me to Carlo, an award-winning knitwear designer, and we hit it off from day one.
For the collection, we were both inspired by the warrior legacy of Chinggis (Ghenghis) Khan. He conquered half the known world and his legacy in Mongolia is omnipresent: the warrior spirit is still relevant today. Mongolians are very resilient people, strong-minded and physically able to live through the country's very cold winters. We wanted to create a sense of what it was like to be a warrior in both Mongolian and British cultures – one of Mongolian traditions, folklore and epic landscapes, and one of the fast-paced, ever-changing, overcrowded melting pot of London life.
Carlo and I only had three weeks to design and make the collection before our fashion show in Mongolia, so it was pretty chaotic from the start but we got there in the end – through hard graft, lots of help and little sleep.
JD: What is sustainable fashion to you?
NJ: I believe building a sustainable fashion brand is about making beautifully designed garments that looks good, feels good and does good, helping to protect the people, animals and environment. Sustainable fashion goes beyond minimizing any adverse effects on the environment. It's also about working together with suppliers to improve the entire ecosystem. Because the long-term livelihoods of nomadic herders, wild animals and pastures are under threat, it was important for me to launch a fashion brand that is based on long-term thinking about the ecology, economy, and people of Mongolia. I wanted to improve the wider ecosystem through a sustainable, virtuous and socially minded business model.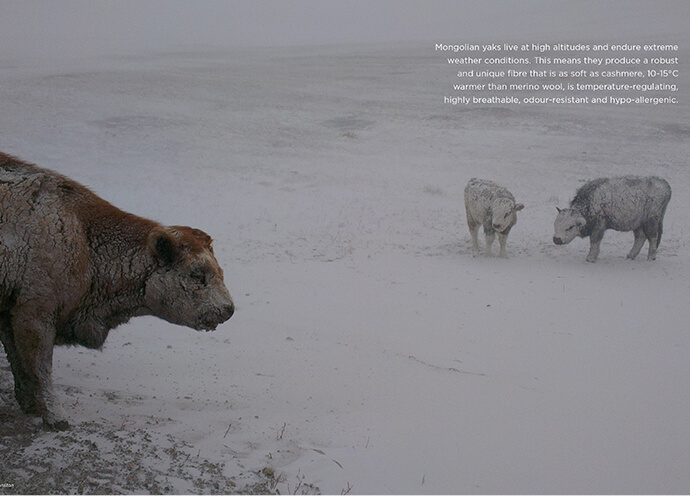 JD: Where can people purchase Tengri?
NJ: Tengri pieces are available for online pre-orders only at the moment. We will just launched our kickstarter campaign to help put more garments into production and distribute worldwide. We would encourage people to sign up to our mailing list on our website (tengri.co.uk) to place a pre-order or support our Kickstarter campaign and become the first to own a Tengri item this winter!