After years of setting up a strong foundation within Hafizabad, Pakistan, Popinjay , a new socially progressive handbag line has just opened its doors for business. Working directly with women artisans in a remote region of Pakistan, Popinjay creates gorgeous embroidered bags helping women bring tradition skills to a contemporary market.
"I want to elevate the craft of these artisans to meet global fashion standards. Popinjay is about empowering not just the artisans but also the consumer to make choices that contribute to a more just, more beautiful world," Popinjay founder, Saba Gul, said.
At present, Popinjay employs a team of 160 women and teaches them the art of hand embroidery with silk threads. The women get together for four hours every morning to create the beautiful motifs that appear on the handbags. To Popinjay, these women are the epitome of resilience, optimism and dignity.
We recently caught up with Popinjay founder Saba Gul to talk about how she made the leap from engineer to entrepreneur, transparency and the journey to making her vision a reality.
1. What inspired the leap from engineer to social entrepreneurship? Many people have great ideas, but you've acted on yours. What did it take to follow your instincts in this endeavor? Was there an aha-moment or did you just jump into it?
I was always interested in elevating the status of women in places like Pakistan. Having grown up there, I was deeply troubled by the inequalities and injustices I saw. When I was a teenager, it just made me plain angry. But it was the path to creating equal opportunities for women that wasn't immediately clear, and I never imagined it would come through fashion!
I did have an aha! moment when I heard a story that deeply touched me while I was in grad school in Boston. It was the story of a young Afghan girl named Azaada Khan who had to mask herself as a boy just so she could attend school, at a time when girls weren't allowed to go to school by law. I remember comparing her life and struggles to mine, and just being in awe. I went back to Pakistan that winter to kickstart the pilot that eventually became Popinjay.
The decision to quit my job and move to Pakistan to work on it full-time was one I made very quickly. I didn't think too hard or too deep. It was definitely a leap of faith. But I knew my heart wasn't in my job at that time (in technology), and meanwhile I was spending evenings, nights, weekends, lunch hour, and even pulling all-nighters to work on my pilot project back home. There was so much eagerness from the women to work on this, and I saw so much potential in it. It really lit my fire like nothing else had before. Most friends and family weren't supportive of my decision to quit my 6-figure salary and move to Pakistan until much later, when we started getting more traction. But I drowned out the noise and listened to the voice inside me that said I only had one life to make a difference, to work on something that really mattered.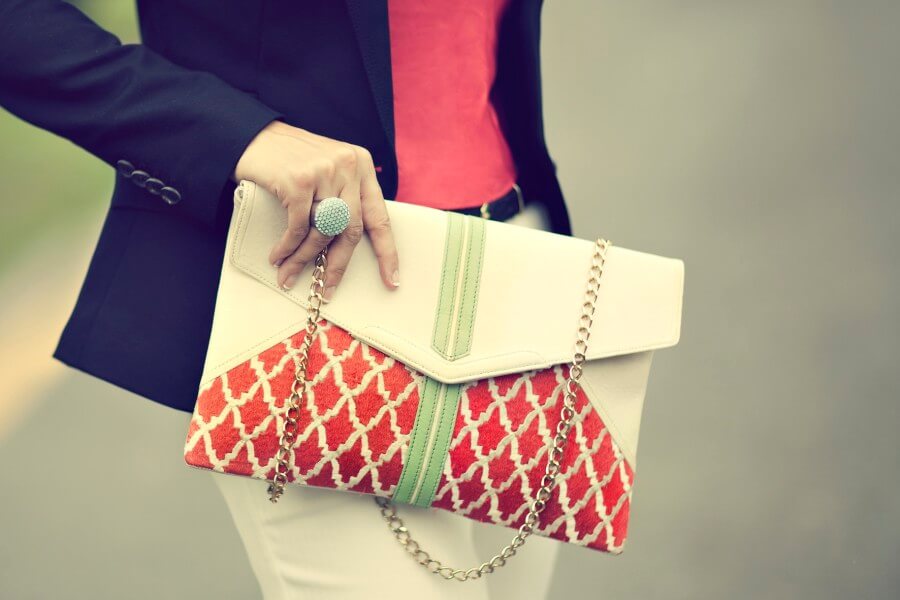 2. What was it like gathering the women in Pakistan you work with? How did the collective come together? Was there a training process?
I have to say that I am struck every day by how skilled, eager and resilient the women artisans we work with are. From the first day we gathered them, they were so eager to be a part of this. They wanted to earn their living with dignity, and were willing to work hard for it. We started with a very small group of about 20 women, and 2 trainers. Over a period of 8-10 months, we grew it to 160 women and 6 trainers. The training and quality control was not easy. While the women were eager, they did not understand the difference between market quality and craft quality. We got through this with repeated sessions where we showed them finished products, finished embroideries of the quality we wanted, created quality check-lists for the trainers, made many many trips to the village and spent a lot of time with the women.
It required a lot of patience. It required setting up incentives to motivate the women to really take ownership of their work. The results are something I am really proud of. The latest set of silk embroideries we got from the women were so intricate and so beautiful they looked like printed fabric. They looked like the work of someone who was a master at her craft. As we add more women to the program, the training continues but we have found a process that works.
3. Why did you choose to work in that particular region on the country?
Working in the particular village we work in (named Hafizabad) was more a matter of being in the right place at the right time. I knew the community, it was close to Lahore where I live, and it was a place where there was very high unemployment and poverty among women.
4. On your website you detail almost every material and set of hands that go into making your product. Why do you believe transparency in fashion is important?
Transparency in fashion is critical. It is, in fact, one of the differentiating factors for our label. The purpose of creating a brand like Popinjay is not only to empower the artisan women, but also to empower our customer. Empowering them to be able to make buying choices that will make the world a more just, more beautiful place. Empowering them to learn where the products they buy are really coming from, who is making them, and how their lives are changing for the better (or, in many cases, for the worse) by doing so.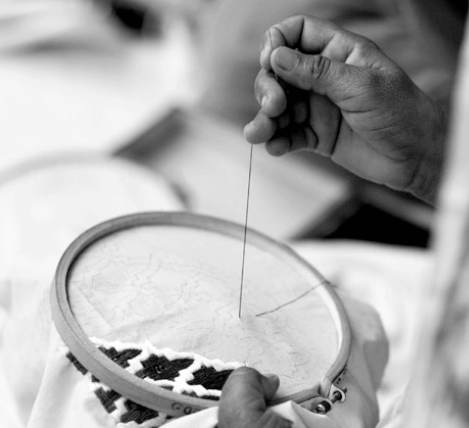 We also want to highlight how much love and labor, how many hours of old-fashioned craft goes into each product. For example, one of our bags – the Lotus Foldover – has 100 hours of hand embroidery on it. How charming is that? A hard-working, eager, skilled but impoverished Pakistani woman touched this bag with her hands and worked on it for 100 hours and got paid really well to do it! I think that's beautiful and I want our consumers to feel that connection with our women in every stitch of that embroidered panel on the bag, and to feel that connection with the history and heritage that the design brings forth.