Every girl loves her accessories; a customizing flare for any outfit and occasion. So when that desire for your own wearable art is coupled with mindful making practices, the result is utterly glamorous.
Using responsibly mined raw gold + diamonds, life long jeweler, Blair Lauren Brown, is a name to watch. Ethically made in NYC, each piece is handcrafted Americana style–and stunning without being overdone. Our current favorite piece is the long peaks mountain ring — stack it with as many layers as you want! We recently caught up with Blair to talk about her career, family legacy of jewelers and launching the collaborative 12 Wooster Store.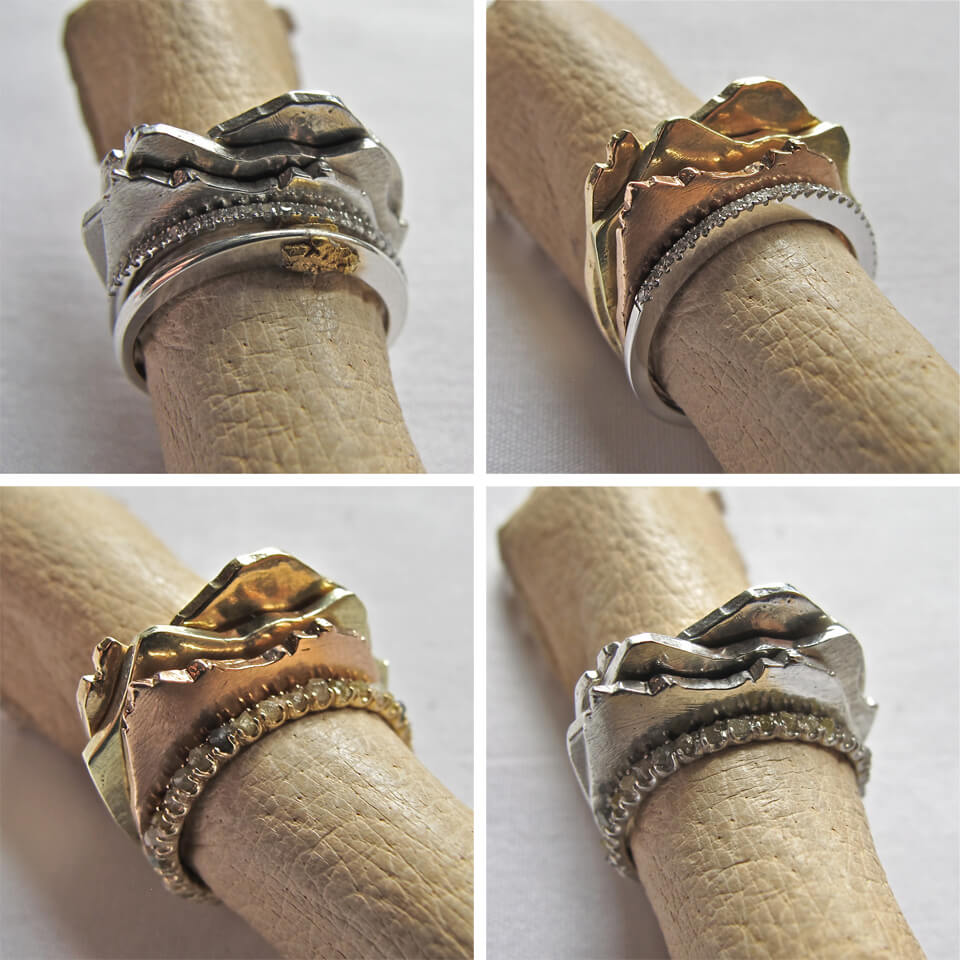 Juliette Donatelli: What led you into jewelry designs?
Blair Lauren Brown: You have heard the story about making jewelry from a really young age – well, I was picking gold out of the carpet under my grandfathers jewelry bench since I was a bambino. If I retrieved enough I was rewarded with a little nugget or two. Gold at that time, mind you, must have been $300 an ounce or so. Different ball game. Now if I drop a nugget you better believe I dig! So I was born into a really cool family legacy dating back to 1901 in Alaska. When I was finishing my BFA and the family had no one else carrying on the business at the time I felt like I should learn their very unique style of producing with 20-24k raw gold nuggets. It wasn't until 6 years after that experience that I actually starting producing fine jewelry.
JD: What makes your brand ethical or sustainable?
I see my brand as an extension of my values and a leveraging arm for impacting important environmental & humanitarian changes.
BLB: So ultimately it's extension that makes us sustainable. The brand is as considerate as I know how to build it, and by virtue of being an extension of myself it has been built in my personal set of unflinching standards set by years of working with NGOs and sustainably minded organizations. Sustainability was never the hip or cool thing for me to do; it was the right and obvious thing for me to do.
My life has always been oriented around conservation, as I was fortunate enough to be raised by the outdoors. In 2008 when I first started designing my one of a kind pieces I was involved with land conservation efforts – using my background of lifestyle marketing as a tool to help educate and support efforts to conserve the Bristol Bay area of Alaska. Bristol Bay, a community and a designated "National Treasure" was being threatened by the proposition of a potentially 2-mile wide, open-pit mineral extraction project. It is called the Pebble Mine. Alaska being my backyard – our backyard – it seemed like a no brainer to do everything I could to prevent the destruction of habitat for preservation of both a keystone species and the community. It was through these efforts that I started working with Earthworks Action, in supporting their clean mining initiatives. They focus on policy and corporate leveraging in a way I couldn't dream of addressing myself. So I have decided to take advantage of my strengths and hope that the cross pollination of strengths would serve all parties.
More palatably – I support small local businesses in our business decisions. All business operations and production policies are about building and working with a community.
Our Manufacturing is 100% New York USA. We source our raw gold from relationships my family has maintained in Alaska for generations. I was one of the first signatories of the No Dirty Gold Pledge made possible by Earthworks Action Organization in 2008.
This pledge solidifies my commitment to use only gold from family owned mines that have been in operation for over 20 years, recycled refined metals, mines that support ethical working conditions, and so on. All of our stones are conflict free and Kimberly Process certified. I try to avoid any plastic. We use recycled cardboard in our packaging, reused material in our shipping, digital copies of our marketing material and so on. Our studio is furnished with antiques and considerately refurbished materials. My home is the same way – energy efficient lighting, composting, and other conservation methods are in place wherever possible. These sorts of things are so ingrained that I have to grabble with what not to buy at the grocery store when I forget my bags so that I don't take any of their disposables.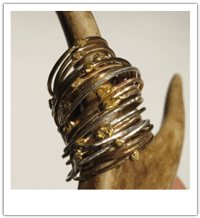 What's unique to our sustainability practices? The whole collection will continue to support Earthworks policy based actions as much as we can. Our Shasta Mountain Series is designed to financially support the Breast Cancer Fund – a research and education organization working to eliminate the environmental toxins that contribute to breast cancer. I am personally working with 5 Gyres a NGO working towards eliminating toxic plastic pollution in our waterways. More specifically I am dedicated to plastic bag bans across the US and trying to extend that into the apparel and accessories product sectors in hopes to eliminate the poly bag used by the majority of the fashion industry in shipping from manufacturer to retailer. The use of plastic here is unquestionably one of the largest pollutants in the industry.
JD: How do you define sustainability?
BLB: In the context of a business driven by design and product innovation sustainability is about the consideration for every step in the process – from inception to afterlife: Is what we are doing going to deplete our resources and develop ourselves out of business? Does the development of this brand/product compromise future development, and if so what can you do to mitigate, even reverse that possibility? I think, as a population we have already done a pretty good number on the planet, our communities, and ourselves.
I do not necessarily think it is intentional – because I truly believe our evolution is about innovation. That said, sustainability is still going to include some reparations, and before we get there lets make sure to make smart decisions in the development of our communities going forward.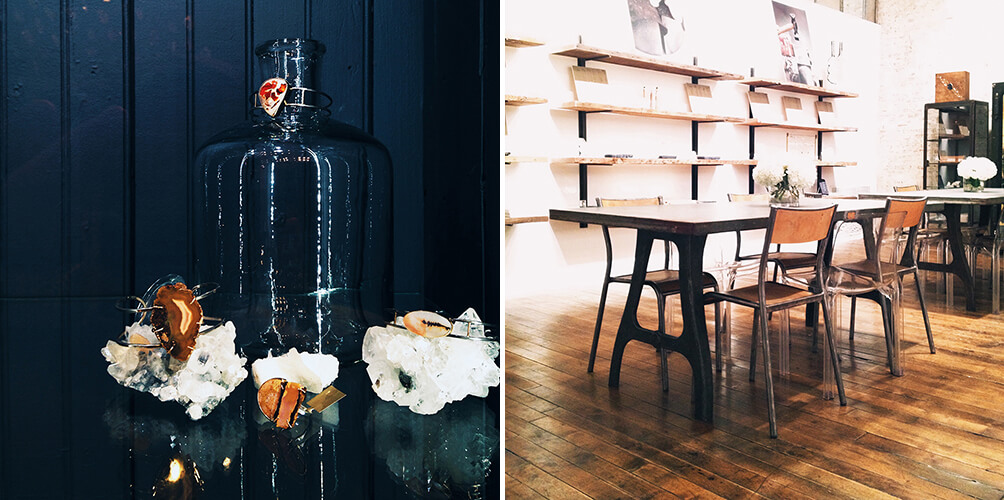 image: designsponge
JD: Can I explain what is going on at 12 Wooster in NYC?
BLB: 12 Wooster is Amazing! The whole space is a combination of Melissa Joy Manning Retail, her showroom, offices and an educational space. She took the bull by the horns in bringing manufacturing back to Soho. Partnering with a fab architect, Jeremy Barbour, and asking for a little love and support from friends & fans through Kickstarter Melissa created an immaculate representation of her leadership as the cofounder of the CFDA sustainability board. The space itself has been remodeled using beautifully refurbished materials in an old industrial building. The Kickstarter campaign helped pay for the energy efficient fixtures and HVAC systems…and on that note I will stop, as I totally geek out on all things sustainable. Years ago – after jewelry crash and burn number one I finished all the classes to get my contractors license so that I could start the first green building business in Alaska. I had a team lined up a business plan and even a few clients reran' to go. I could talk your ear off about geothermal heat exchange and remote sensor lighting – like I said, Geek Out!
Back to the MJM Wooster store… Melissa decided to share her floor, showcasing, as I see it, some of the most talented sustainable designers in the industry: Mark Davis, Pamela Love & Judy Guib. My collection is represented as well, and being so new to the table I feel totally honored and supported. I have just started actively selling this season so for this to be my NYC debut – it's a really great feeling. I love my life.
See more Blair Lauren Brown jewelry online, or stop by the Melissa Joy Manning Store at 12 Wooster in NYC.