A line of sophisticated underpinnings with clean lines and sustainable roots.
After over a decade of designing in London and NYC, founder Misa Miyagawa has returned to her roots in Los Angeles to launch a collection of organic and sustainable personal items. Focusing on organic cotton and silk underwear for women, all the lovely products are sourced, designed and produced with care in the USA.
We took some time to sit with Misa and chat on her new line of intimates, agriculture and why supply chains can be sexy.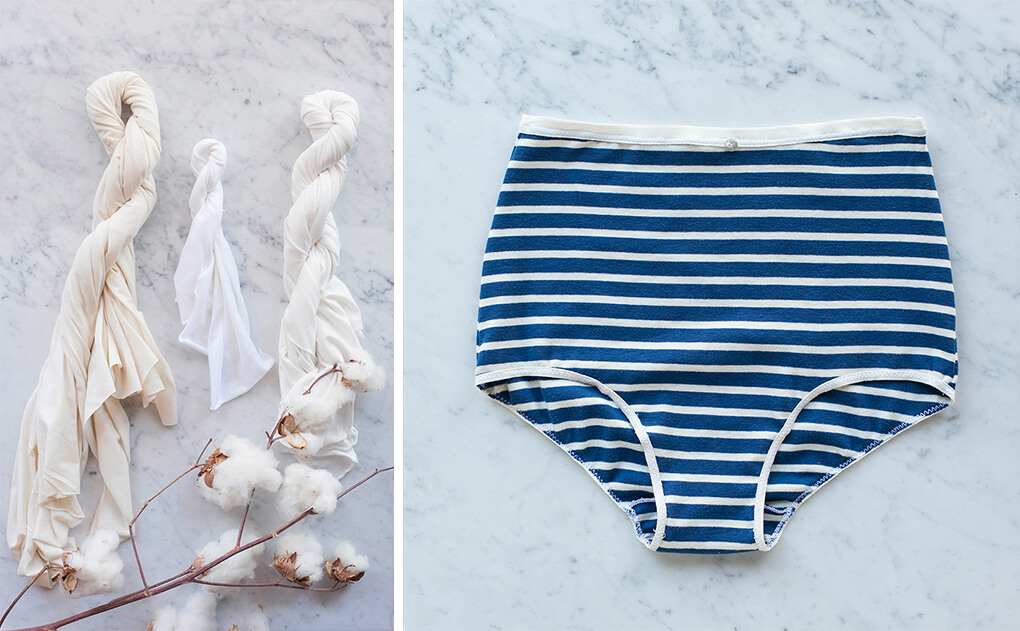 Juliette Donatelli: What was your experience+background prior to launching the line?
Misa Miyagawa: I've been in the fashion industry for the past 10 years, and have worked in so many different capacities — as a designer and production manager for clothing and accessories, for both domestic and overseas production. Before that I studied fashion design at Central St. Martins in London, and graduated from Parsons in NYC. Now, I am based in Los Angeles, where I'm originally from.
JD: There's always a push to start a business or bring an idea into fruition. What was that spark to launch Botanica?
MM: First off, I am passionate about modern sustainability, specifically organics and recycled/upcycled products. For example: I try to buy organic food and I compost scraps whenever possible, and most of my wardrobe is "recycled" or second hand. I use eco-friendly cosmetics and my husband makes our own household soaps).
During my decade of working as a designer in the fashion industry, I often felt that the market was lacking in beautifully designed and produced organic/sustainable clothing, accessories, and home goods with a sophisticated aesthetic.
That's where Botanica Workshop was born — I created the brand as a platform for offering these types of high quality goods to an audience who will enjoy them in their everyday lives.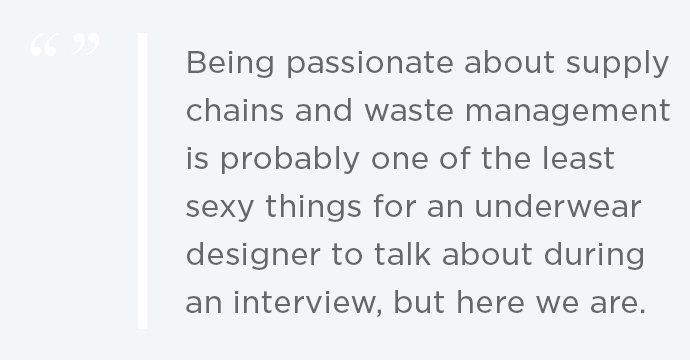 JD: Why specifically an ethical lingerie brand?
MM: I found very few options for organic cotton underwear, and even fewer in styles that I would wear regularly. I started to imagine what I could offer in lieu of the crayon-box colors and lacy fluff that was on offer, and began designing soon after.
JD: The entire line is "Made with care in the USA." How difficult was it for you to source manufactures to produce?
MM: It was very difficult to find manufacturers who had the correct machines and experienced sewers to manufacture underwear. The pieces have nuanced details, and need to look and feel a certain way that not everyone understands- my quality standards are very high! On top of that, our production runs are very small and most manufacturers are looking for orders in the hundreds, if not thousands, per style and size. Thankfully, after months of detective work, have begun to find manufacturers who understand our needs and are willing to work with us.
JD: And likewise — how difficult was it to source high quality organic cotton and silk georgette?
MM: Again, it was not an easy task, but I'm a big fabric nerd and am always willing to go the extra mile. I have been following a few organic and sustainable fabric manufacturers for years, and every season their offerings grow by just a bit.
I've learned that a large percent of US-grown high quality organic cotton gets sent overseas for manufacturing. At one point, I thought I had found my perfect fabric manufacturer, but they were based in Canada and the shipping fees were exorbitant! Currently all the fabric we use is sourced from US-based companies, and the silk is actually milled domestically as well.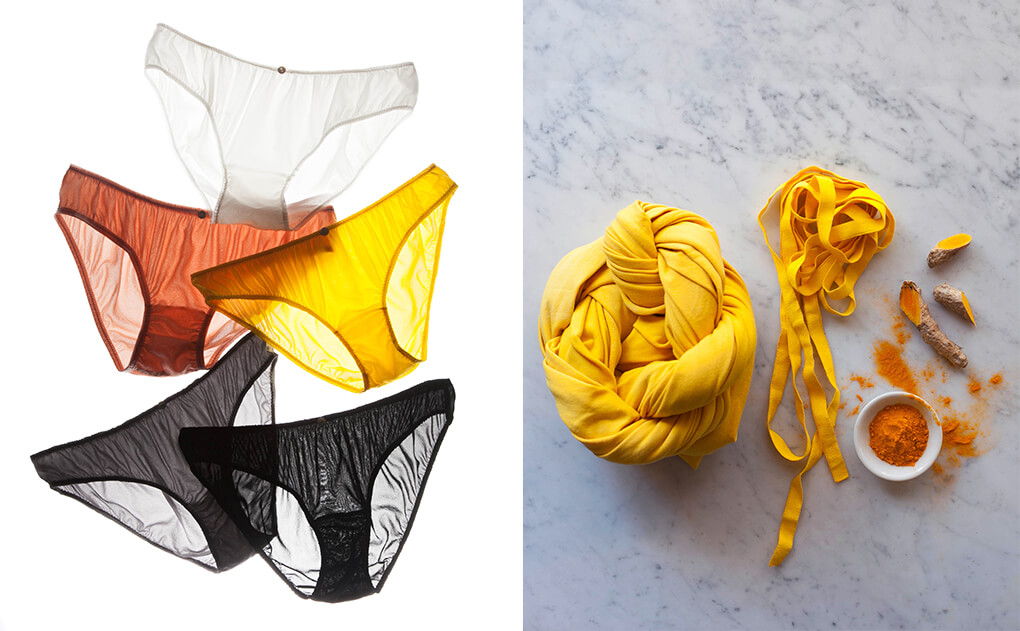 JD: What is one thing customers should know about ethical fashion?
MM: Most of my ideas about ethical manufacturing and sustainability stem from a Wendell Berry quote: he said that "Eating is an agricultural act," and in that vein I strongly believe that "Fashion is an agricultural act" as well. We all have choices. Choosing to use organic cotton grown on land that has not been blasted by pesticides that pollute the local water supply is important to me.
Choosing to use domestically manufactured silk that will still be beautiful years from now, rather than non-biodegradable synthetic fabrics that are worn for a season and discarded, is important to me.
Being passionate about supply chains and waste management is probably one of the least sexy thing for an underwear designer to talk about during an interview, but here we are.
A few years ago, when the organic food movement was gaining popularity and producers were stepping up their game on the aesthetic front, I found myself getting more and more excited to buy these crazy beautiful vegetables and fanciful fruits. For someone who went from eating out 3 meals a day to cooking at home 5 nights a week, it was a strange and eye-opening experience.
As a fashion designer, I'm a visual person first and foremost, and I'm easily seduced by color, texture, detail, shape. When my ethical beliefs can agree with a great product, I feel like I've achieved some kind of small harmony.
I love that more brands are being born that focus on mindfully made products. Sustainable or ethical fashion is breaking out of a very pigeonholed niche part of the market with more varied and sophisticated viewpoints from designers around the world. More and more, customers are aware of the unethical aspects of the fast fashion industry and are realizing that their choice matters, that they do have purchasing power.

JD: Where can readers buy Botanica Workshop?
MM: We will be launching our collection for Spring 2015 and will be announcing retail partners very soon. The line will also be sold through our own online shop. We're hoping to have some products available even earlier than the official launch, so please keep in touch by following us on Instagram or Facebook for updates!