The articulate, extremely knowledgeable, and hot, Sass Brown has just released a new book: Refashioned: Cutting Edge Clothing from Upcycled Materials.
The fashion industry is facing the challenge of too much. "Producing more ugly boring clothing isn't a sustainable goal," says Brown. "It's about high end cutting edge design." Which is precisely what her new book highlights through 46 international designers that are recontextualizing fabrics, and creating beauty from materials that are perceived as waste.
The average lifespan of an article of clothing in the US is three years. AVERAGE!
And with sixty-eight average garment purchases a year in the US, that's a ton of waste.
Much of the garment waste is post-consumption: Eight-five percent of garments end up in landfills. And fifteen percent of waste comes from fiber extraction to finished garments.
But shockingly, ninety-five percent of all textiles are recyclable in some way. Even poor quality post-consumption garments can be used for instillation. So there is an entire market rapidly growing as awareness increases on what happens after a garment has reached it's perceived end of life.
See what some of these tactile designers highlighted in the book that are choosing to work with so called discarded materials, making them desirable and new.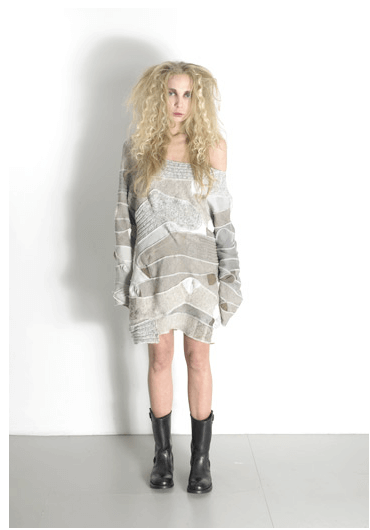 Steinwidder
Steinwidder repieces post-consumer socks together, like a jigsaw puzzle, draped directly on the dress form. Steinwidder's studio in Austria is near a sock factory, which is originally how they began working with socks. Originally, they would use socks damaged during the manufacturing process, but as demand increased they moved over to post-consumer socks. This is a fabulous example of how a designer has re-imagined a material, and truly upcycled it.

Friends with Benefits
Friends with Benefits, design child of Clark Sabbat and Lynn Levoy, is NYC based label creating soft, feminine, garments from pre-consumer textile waste–waste that is discarded during the manufacturing process.
Rachel Freire
A fine artist by trade, Freire creates beautifully poetic designs from a true by-product of industry. Are you ready?: Cow Nipples. Never used, and always tossed, Freire has taken a visceral animal by-product and transformed them into delicate, hand sewn flowers.
Purchase the book here, or read Sass Brown's blog, EcoFashion Talk